About Hal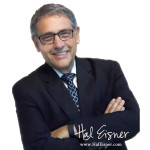 What Hal Does…
Hal Eisner, a reporter for FOX's KTTV & KCOP, has been reporting news for Los Angeles television stations for nearly 30 years. Prior to that he was in radio news for many years in Texas.
Hal came to Los Angeles as a correspondent for CNN in the early 80's. From "network" he went "local" working at KTTV, KCOP and KTLA. Ultimately, he was hired as a staff reporter at KTTV Channel 11. Years later, he was hired in the same position at KCOP Channel 13.  When 13 was purchased by FOX he returned to 11 and now appears on both stations.
Also, during his time in L.A. Hal served, for a time, as West Coast Bureau Chief for Tribune Broadcasting's syndicated newscast, USA TONIGHT.
During his many years on Los Angeles television, Eisner has covered such major stories as the chaos in the city of Bell,  the Chatsworth train wreck, the trial of Michael Jackson, the Robert Blake case, the Los Angeles riots, the devastating Northridge earthquake, the Simpson-Goldman murders, the murders at Columbine High School in Colorado, and the 2000 Democratic National Convention.
Hal's Projects & Involvement
Besides his day job, Eisner has always been very involved in local television industry organizations. He is a 3-term Past President of the Associated Press Television Radio Association (APTRA), a 2 term officer (Vice Chair Los Angeles) and 3 term Governor of the Academy of Television Arts and Sciences, he was a member of the Board of Directors of the Southern CaliforniaRadio and Television News Association and, in the past, has also held membership in the Los Angeles Press Club and the Society of Professional Journalists. Hal served as the Executive Producer of the LA Emmys for 7 consecutive years. Eisner redesigned APTRA's current Mark Twain trophy and executive-produced its awards show for 5 years.
Hal is particularly proud of the workshops he's designed to help aspiring young reporters build their careers as well as programs he helped develop for TV & radio news veterans. For those looking to get into the business, he founded APTRA Academy described in "The Communicator", published by the Radio and Television News Director's Association, as "the hottest workshop in the country." It's designed to help the "aspiring" make resume reels by giving them a fake story to cover. The realism is wratched-up with the help of actors, public information officers from fire & law enforcement agencies and makeup artists. Scores of reporters, anchors, photographers, editors, producers, news directors and others give of their time to serve as mentors. For professionals, he's started such programs as APTRAPrep Las Vegas — an annual video resume critique workshop. He also started the industry related website HalEisner.com.
Hal's Achievements
Hal is proud of his many honors which include 3 Emmys for his work on KCOP Specials, the 2005 Chris Harris Reporter of the Year Award from The Associated Press Television Radio Association and APTRA's best reporting award for his coverage of the 2008 Metrolink Train Collision. Hal and the FOX 11 News Team won an Emmy for the same Metrolink Collision coverage in 2008 and an Emmy for 2010 Best Newscast . He's been nominated numerous times for other personal achievement Emmys and has received journalism honors from The Society for Professional Journalists, "Best of the West", The Diabetes Association and The L.A. Press Club for such things as "Best Spot News Reporting" and "Best Reporting on Media."
Hal's Vision for HalEisner.com
HalEisner.com has been around for a good many years and good things have come from it! I always envisioned this site as a "high road" where journalists could share stories whether veterans or young people looking forward to a career in broadcast journalism.
I always thought the site could offer links to great news-related websites for research and opportunities for young people.
I have always believed the if people help you along the way its important to help someone else. I have always been very lucky to have very supportive friends and mentors.
I remember when I was trying to work my way up in the business. There were no such things as mentoring programs. There were, however, a few people who made a real difference in my life.
One, a fine broadcaster from KTRH Radio in Houston, named Russ Harlow. I was a college student at the time. Harlow treated me like a son. KTRH had what was called it's "All News Weekend." KTTV's Steve Edwards, who was the program director at KTRH the time, hired me in effect giving me my first big news anchor job. Harlow took me under his week acting much like a mentor. Both were significant.
The late Larry LaMotte was too.
Back in 1976, during America's bicentennial, LaMotte gave me a job. He was the News Director at KRXV Radio in Fort Worth, Texas; an all news station which carried NBC's onetime NBC/NIS (News and Information Service) format. I'll never forget that year or our news vehicles. Our mobile units were painted red, white and blue. The sedans even had blue police-like lights over the top of them. You couldn't miss us heading for a story! LaMotte was remarkably encouraging and supportive. A great boss.
A station format change and several jobs & years later, LaMotte became a bureau chief at CNN and offered me another job. CNN was new at the time.  The bulk of my experience was in radio. I wasn't so sure how I felt about making the switch from radio to cable & the move from Texas to Los Angeles.
After some thought — I headed west and took the job. It was the right call! Russ Harlow, Steve Edwards and Larry LaMotte were people who helped me. There were, of course, others. I'm greatful to all!
WIth my mentors in mind, I worked hard with the Associated Press Television and Radio Association and Pepperdine University to create APTRA Academy. The idea was to build from the ground up, the ultimate in mentoring. You can learn more about APTRA
Academy at www.aptra.org.
I believe in helping those who are hungry to be tomorrow's broadcasters.
For this reason, part of HalEisner.com has always been dedicated to resources for aspiring broadcasters. There are important resources for students such as scholarship programs and job & resume sites.
Whether for the wannabe or the pro I look forward to continuing participation from those of you who wants to share an experience or a good story that can maybe help us all in some way or another better ourselves. These stories are part of the site's FROM THE FIELD section. In it we hear from many of you in text articles and video posts. Just as in the past I'm sure we will see insights from photographers, editors, writers, managers, news directors, producers, reporters from both radio and TV, pros from PR and Public Information Officers just to name a few. I'm sure we'll hear plenty about new media, new ideas, MMJ's, transitions into new technology and hanging on to all that is journalistically sound.
HalEisner.com really is a place for us to hang out. In the old days we might have done that at a local press club. But, these days seems like we hang out on the web. So, as we refresh this site, I thank you for visiting, participating and making our industry the best it can be!
Feedback is Welcome
If you have any suggestions on how to make this work better I'd like to hear from you. If you have stories you'd like to share I'd like to hear from you. You can reach me at hal@haleisner.com. Although this website may have my name attached to it, it's really meant to be for you. It's the way I do things. I've always been about bringing people together from different stations and job classifications in a positive and constructive way for the purpose of creating excellence. It is my mission to do just that with haleisner.com.
Pardon my Texas accent, but ya'll come back now hear 🙂
Thanks for stopping by!