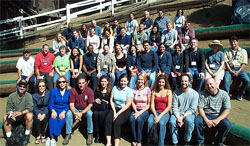 APTRA ACADEMY
THE CLASS OF 2001
By Hal Eisner
What a gang! I'm proud to say I know each and every one of the people you see in the APTRA Academy 2001 class picture and, I'll bet anything, that some of this year's students will someday be successful television broadcasters!

Among the students -- most are in college, there's an attorney, a sales marketing manager and a registered nurse looking to change careers. There are Northern and Southern Californians and students from Arizona, Georgia and Idaho. Among the Mentors, there are radio, television and public safety professionals from three states who gave of their time and I thank them!

I started APTRA Academy last year in conjunction with the Associated Press Television and Radio Association and Pepperdine University. I did that with the hope of creating something very new. A hands-on workshop where students could spend two days with people they normally couldn't get close too and learn from them through the simulation of a story that in the end would, on tape, look as real as their dreams of becoming broadcast journalists.

The first year was beyond successful. As we entered year #2 I worried. After all, in Hollywood, sequels are tough to pull off but, by all accounts, we did it! And, now we're looking toward 2002 and our next APTRA Academy planned for October 5th and 6th.

This is a project that couldn't have happened without the commitment of a lot of people, so when you get a moment please take a look at this year's mentors list. They are the Academy! They gave of themselves. They shared with students who may someday look back and say "those are the people who made a difference in my life!" And, I'll bet anything that some of them will someday be successful television broadcasters!

I know for a fact, that each and everyone of the people you see in the APTRA Academy 2001 class photo (and those who couldn't stay till the photo was taken) have made a difference in my life!

KPCC's Kitty Felde organizes the team she's mentoring with KCOP's Sam Louie next to her

EXTRA Correspondent Phil Shuman lays out his team's strategy as students and co-mentor KNTV's Mark Oltz listen

Hughes makes assignments to Bob Rand's team which includes Melissa Simpson who flew in from Boise, Idaho

LA County Fire Dept. PIO Brian Jordan gives the latest update on the fake earthquake as students take notes

You have to give our mentor photographers a ton of credit. They gave over 100% all weekend!

Student Kimberly Holmes-Lamar grabs Jordan after the news conference for a one-on-one. KMEX's Art Quezada does the shooting

Over lunch Steve Cohen shares thoughts on being successful broadcast journalists

After lunch Saturday it's time for an earthquake update from our Fire PIO's Jordan and Roland Sprewell. 0675: Students & Mentors pay close attention to news conference #2

PIO Sprewell takes questions after the presser. Check out the Malibu News 12 mike flag :)

Hal cues the reporter cut-ins from a near by window

Emilia Pablo interviews Jocelyne whose playing the part of a tearful victim at an evacuation center

Steve Cohen talks with KCOP Editors Debbie Kim Bauer and Art Talavera

Student Matt Brennan shares some thoughts as Mary-Rose Abraham and others listen

Sam Louie turns into a teleprompTer as he helps out on a taped standup

Mentors strategizing! KABC-TV Reporter Leo Stallworth & KMEX-TV's Art Quezada

Late Saturday afternoon LA County Fire's Urban Search and Rescue team show up with flashing lights

Sprewell explains the victim was looking for her dog in the storm drain when the fake quake struck and she got stuck
It turns out our victim (Mentor Sarah Acevedo) has (fake) injuries and will require help getting out
Rescuers move in

It takes time to get her loose

The rescue is successful!

Nothing like a fire truck to jazz up a standup!

KABC-TV Assistant News Director Mike Espinoza makes it to the ranch to offer some inspiring words Saturday night around a campfire

After writing their stories it's time to edit. In this case, on a laptop, with Art.

Our official photographer Rachel Ambrose finds her way in front of the camera

KEYT Anchor Tracy Lehr helps Joy Short with her mike.

Bob Dlugos, an engineer and KTTV's Rod Bernsen in the anchor academy's control room

KNTV Anchor Scott Budman offering some tips

Jon, Dan Hattal and KOCE's Lance Orozco (R) synchronize their watches
Dan and Bob are calling the shots as an engineer watches on

Rod, Bob and Dan offer some post-taping tips

Student Patricia Friedman checks out the makeup

The President speaks

Bob Dlugos (standing), Dan Hattal to the left and Voice Coach Jon Beaupré (R) go over some of the anchor students' work

Hal and Sarah go over some final thoughts

Hal graduates students and offers some final thoughts