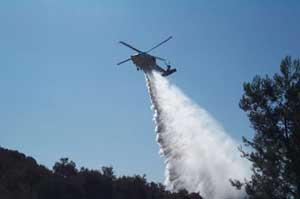 An LA County Fire Department helicopter opens the camp's simulated brushfire with a very realistic water dropping on Cottontail Ranch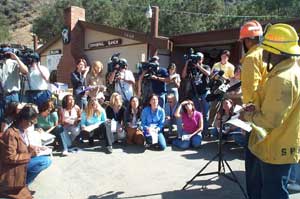 In the first of many mock news conferences, LA County Fire Dept. PIOs Captain Brian Jordan and Roland Sprewell lay out what's known about the brushfire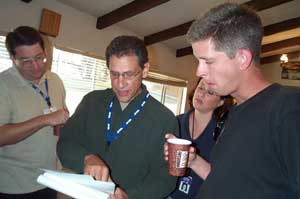 (L to R)KGET Producer Bob Dlugos, KCOP Reporter and APTRA Academy Dean Hal Eisner, KNTV Assignment Editor Sabrina Hughes and KCOP Producer Bill Applegate Jr. go over the plans for this year's story simulation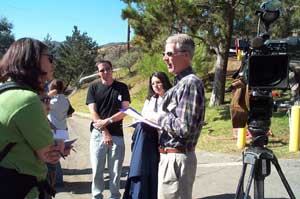 KNBC Reporter Patrick Healy (foreground) and KCOP Writer Bill Lawlor (in the black t-shirt) share strategies with the students on their team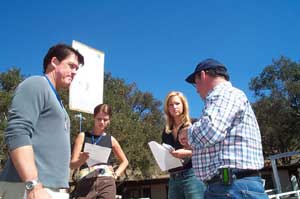 KCAL Managing Editor Paul Skolnick prepares other student reporters for mock liveshots. Every student gets to do one!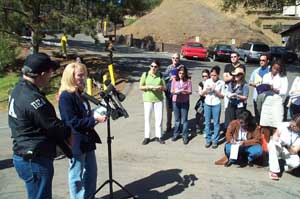 LAPD PIO Mary Grady and her counterpart from the Federal Drug Enforcement Administration Jose Martinez report 2 suspects in the methlab explosion are on the loose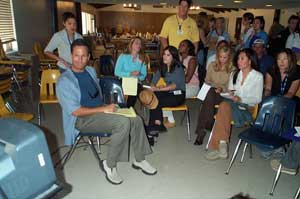 Inside Cottontail Ranch's mess hall, KCOP Anchor/Reporter Phil Shuman (foreground) and a group of students watch a mock liveshot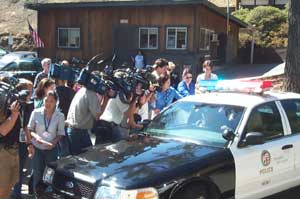 Student Reporters & Crews, crowding an LAPD unit and getting a grab shot of Anthony being taken away, hear him say he "didn't do it!"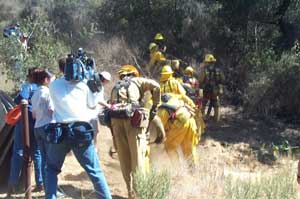 LA County Firefighters race uphill to get to a fake spotfire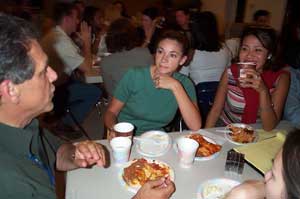 Over lunch, Hal Eisner talks shop with Mentors Natalie Tejeda and Veronica De La Cruz, both from KYMA in Yuma, Arizona and both former APTRA Academy students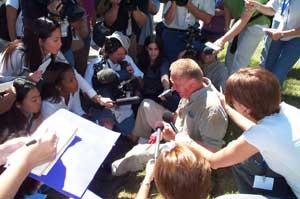 Star Trek Enterprise Actor Vaughn Armstrong, separated from his wife & kids because of the explosion and fire, is consoled by a student reporter as other student reporters and photojournalists capture the moment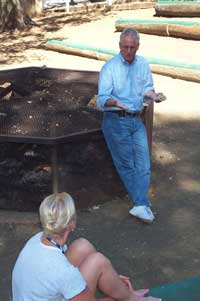 KTTV Helicopter Reporter Rod Bernsen talks with some students around the campfire about what it's like reporting from SKYFOX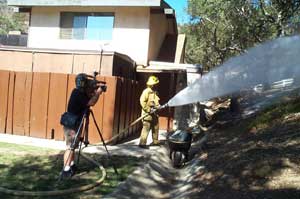 KCAL's Grant Monrean shoots an LA County Firefighter putting out some fake flames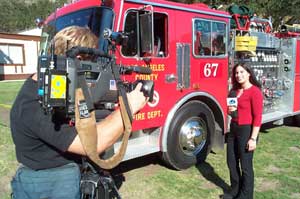 Student Reporter Debra Greene knocks off a quick standup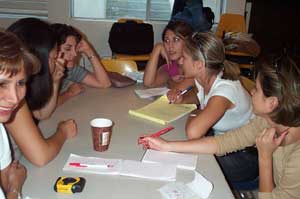 The breaking news simulation over, it's writing time. Here, Mentors Sarah Acevedo (far left) and Karen Todd (right center) pour over story elements with their student reporting team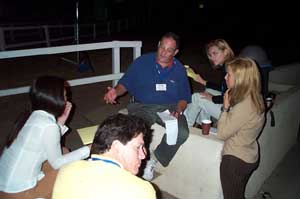 KTTV Senior Producer Bob Tarlau and his student team work on writing their story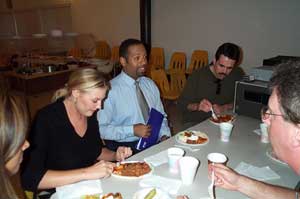 It's dinnertime at the ranch! Student Anchor Ray East (who flew in from New York City to attend the camp) is surrounded by Pepperdine student Gretchen Heim (L) and Raul Collazo (R). For Collazo, a weathercaster on Univision 15 in Las Vegas, this is his second year to attend APTRA Academy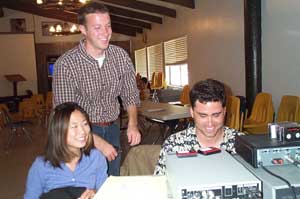 Photographer/Editor Gino Corridori edits student reporter Marie Ann Choi's story as photojournalist Wes Rodda watches
At the ANCHOR Academy (on the Pepperdine University campus) KCET Reporter Jon Beaupré and KGET Producer Bob Dlugos keep things moving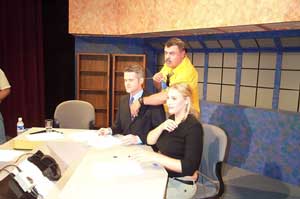 A style and delivery coach, Jon Beaupré works with student anchors Matt Brennan (whose here for a second year) and Gretchen Heim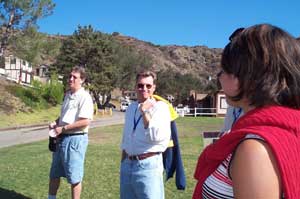 Working the ANCHOR Academy (L) former KTTV sports anchor Randy Kerdoon and KNTV Anchor Ross Becker who flew in from Las Vegas for the weekend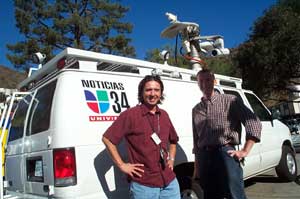 With APTRA Academy from the beginning, KMEX Photojournalist Art Quezada (posing with KSBY's Wes Rodda) brought one of the station's livetrucks to the camp. KCAL and KVEA also graciously provided livetrucks adding a sense of reality to the weekend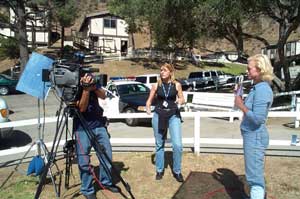 KCOP Reporter Gigi Graciette works with student reporter Susan Walter preparing a mock liveshot that will be seen by other students on a TV in the ranch mess hall.