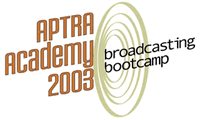 APTRA ACADEMY 2003 -- A HUGE SUCCESS!!!
*** A Shocking & Realistic Story! Also, The First Larry LaMotte/APTRA Academy Scholarship Prizes Are Awarded! ***
By Hal Eisner
APTRA Academy Founder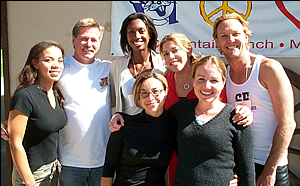 The 2003 Larry LaMotte/APTRA Academy Scholarship Winners!
(Back Row/L to R) Christine Joubert, Eric Bergstrom, Bess Hubbard, Lizza Morales and David Reed (Front Row/L to R) Eevet Khoury and Chelsea Bellows.
By all accounts, this year's boot camp for aspiring reporters and anchors was a huge success. The sold out workshop at Pepperdine University's Cottontail Ranch in Malibu featured a role play story. The story, that played out over a 5 hour period was one of a meth lab explosion that started a large brush fire, but the story took on a sensational twist when a U.S. Senator, played by actor Conrad Bachmann discovers the prime suspect in the case is his son-in-law!
In the reporting camp the students and their camera crews followed the action, covered the story and after writing it and having their mentor-editor cut it, they left with a tape of the story to help them in finding a broadcasting job. The plot of the story as aided by terrific performances from Actresses Nancy Sinclair and Britnny Roberts.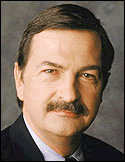 Larry LaMotte
Mentoring the students, who worked in teams, were broadcasters and others from as far away as Atlanta. Students came from as far away as New York.
As the 26 aspiring reporters worked the story at the ranch, 10 men and women who want to be anchors were working to make a tape in APTRA Academy's Anchor Camp not far from the ranch at Pepperdine University.
For the first time, scholarship prizes were awarded to 9 students who demonstrated great enthusiasm, stick-to-it-ness and commitment. The Larry LaMotte-APTRA Scholarship was named after former veteran news broadcaster Larry LaMotte who, for this reporter, was a great mentor. $50 Prizes awarded in both camps amounted to $450. We'll have more on the Larry LaMotte-APTRA Scholarship Awards in next Monday's edition of HalEisner.com along with more pictures, comments and thoughts!!!
For me, after having produced three prior APTRA Academy workshops and one APTRA Academy Junior, focusing only on liveshots, this year's event was remarkably gratifying. My thanks to all of the students and mentors ... all of them!!!