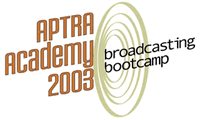 APTRA Academy 2003:
The Public Information Officers
Ever since the first APTRA Academy in 2000, PIOs have played a crucial role in the success of the boot camp for aspiring broadcasters. From the very beginning, LA County FIre's Captain Brian Jordan and Roland Sprewell have headed mock news conferences giving the press boot camp a "real feel."
Last year, the LAPD's Mary Grady and The Federal Drug Enforcement Administration's Jose Martinez joined in making those news conferences even more powerful. This year Jordan, Sprewell and Martinez are all back and joining them at the microphones will be some new faces. Lt. Art Miller is the new head of LAPD Press Relations. He'll be with us! Captain Mark Savage is the new PIO for LA County Fire. He's joining the camp as well. Also this year Captain Jim Wilkins from the San Bernardino County Fire Department will make the trek to Cottontail Ranch in Malibu.
We've had tremendous help from police, fire and the DEA in the past. LA County FIre has brought out strike teams and a water dropping helicopter to help add to the realism of the program's mock stories. LAPD has contributed a black and white and DEA ... some of it's agents! APTRA would like to thank all of those who have given of their time and energy to help those who want to become tomorrow's news reporters and anchors!