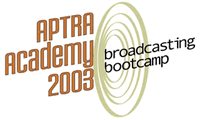 Mentors for APTRA Academy 2003
Every year a bunch of professionals in our business get together with a bunch of people who want to be in our business. They give of their time and from their hearts. What you're about to see is the first installment
of this year's APTRA Academy Mentors List. Each week,between now and Academy weekend, we will be adding names of anchors, reporters, photographer, news managers and others in our business who will be participating in what's been called "one of the hottest workshops in the country!" The 4th annual APTRA Academy will be held October 11 and 12 at Cottontail Ranch in Malibu. You'll find a lot of information and a bunch of pictures about the camp on HalEisner.com and aptra.org. As of this writing there's still space if you want to sign up at www.aptra.org ... but hurry ... this program does sell out! Again ... my thanks to all of the people on this list and those we will add in the weeks to come.

Rachel Ambrose/AP Sr. Broadcast Editor/Los Angeles

Conrad Bachmann/Actor/Los Angeles

Debbie Kim Bauer/KTTV-KCOP Video Editor/Los Angeles

Jon Beaupré/Cal State L. A. Associate Broadcast Professor/Los Angeles

John Beard/KTTV Anchor/Los Angeles

Cheryl Casone/KRON TV Anchor-Reporter/San Francisco

Steve Cohen/KUSI TV News Director/San Diego
Mike Christensen/KCOY-KKFX Photographer/Santa Maria

David Cronshaw/Freelance Photographer-Editor/Los Angeles

Veronica DeLaCruz/CNN Quickcast Anchor-Producer/Atlanta

Christine Devine/KTTV Anchor/Los Angeles

Bob Dlugos/KFSN TV Producer/Fresno

Hal Eisner/KCOP-KTTV Reporter/Los Angeles
Michael Espinoza/KABC TV Asst. News Director/Los Angeles
Cristy Fajardo/KCOP Freelance Reporter/Los Angeles

Jason Feinberg/E! Entertainment Reporter/Los Angeles

Craig Feigener/KCBS-KCAL Reporter/Los Angeles
Roger Gadley/KMPH TV News Director/Fresno

Teresa Garcia/KSBY Anchor/San Luis Obispo
David Goldstein/KCBS-KCAL Reporter/Los Angeles
Henry Goren/Freelance Photographer/Los Angeles

Gigi Graciette/KCOP-KTTV Reporter/Los Angeles
Silva Harapetian/KGET TV Writer-Producer/Bakersfield

Patrick Healy/KNBC TV Reporter/Los Angeles

Sabrina Hughes/KNTV Assignment Editor/San Jose

Capt. Brian Jordan/LA County Fire/Los Angeles

Randy Kerdoon/Sports Anchor/Los Angeles
Timothy Kiley/Inland California Television Network Photojournalist-Editor/San Bernardino

Tim Langford/KTTV-KCOP Writer/Los Angeles

Nancy LeMay/Graphic Artist/Los Angeles

Harry LeMay/Retired Teacher/Los Angeles

Daniela Lopez/KMIR TV Reporter/Palm Desert

Jose Martinez/Federal Drug Enforcement Adm. PIO/Los Angeles
Lt. Art Miller/LAPD PIO/Los Angeles

Mike Murrie/Pepperdine University Communications Professor/Malibu
Al Naipo/KTTV-KCOP Reporter/Los Angeles

Mark Oltz/NBC 11 Photographer/San Jose

Lance Orozco/KDOC TV Reporter/Orange County

Cyndi Ovalle/KVEN Radio News Anchor/Ventura
Martin Plascencia/KVEA Reporter/Los Angeles

Maria Quiban/KCOP Weather Anchor/Los Angeles

Robert Rand/KCBS-KCAL Investigative Producer/Los Angeles

Wes Rodda/KSBY TV Photographer-Editor/San Luis Obispo

Jocelyne Rohrback-Ovalle/JRNewMedia Web Designer/Ventura
Captain Mark Savage/LA County Fire PIO/Los Angeles
Lisa Siegel/KCBS-KCAL Reporter/Los Angeles

Joy Short / KPSI Anchor / Palm Springs

Phil Shuman KTTV Reporter/Los Angeles

Nancy Sinclair/Actress/Los Angeles

Paul Skolnick/KCAL 9 Managing Editor/Los Angeles

Shari Small/KSBY TV Anchor/San Luis Obispo

Anthony Smiljkovich/KTTV Investigative Producer/Los Angeles
Roland Sprewell/LA County Fire PIO/Los Angeles

Mark Sudock/KTTV-KCOP Editor/Los Angeles

Bob Tarlau/KTTV Sr. Producer/Los Angeles

Greg Weissman/Inland California Television Network News Director/San Bernardino
Capt. Jim Wilkins/San Bernardino County Fire PIO/Wrightwood