BROADCASTERS HOLIDAY PARTY DRAWS STAR TREK SURPRISES!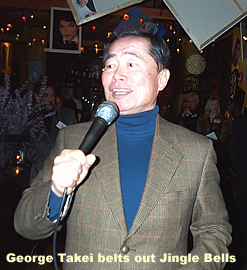 Two stars from two different Star Trek franchises made their way to the APTRA Holiday Party at Universal CityWalk Saturday Night. The sold out crowd at Cafe Tu Tu Tango got a rare opportunity to hear George Takei sing! The original Star Trek's Mr. Sulu, led everyone in Jingle Bells later admitting that was a real first!
Robert Picardo, who played the Doctor on StarTrek Voyager tried out something new too! A comic Christmas song! One, in which he makes fun of the popularity ofVoyager merchadise including action figures -- especially the little dolls that look like him! Fun too was watching his daughter Gina pull the various things he was poking fun at from a suitcase set up on a makeshift table by his side.
Both Takei and Picardo stayed and enjoyed the party for awhile after their stints at the microphone in which they wished everyone a Happy Holiday season!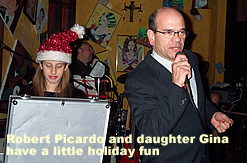 Being the first party of the Holiday Season, the sounds of the season were in the air thanks to event's band FULL THROTTLE. This was their second year providing entertainment that included lots of classics from The Beatles, Rolling Stones, Elvis and others. This was the first year, though, that the party was co-hosted by all of Southern California's community of broadcast and journalism organizations including ...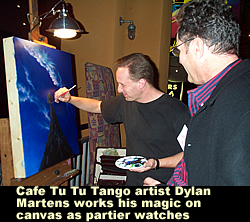 The Associated Press TV-Radio Association of California & Nevada (APTRA)

The Asian American Journalists Association (AAJA)

The Association of Independents in Radio (AIR)

The Black Journalists Association of Southern California (BJA)

The LA Chapter of the California Chicano News Media Association (CCNMA)

The LA Peer Group of The Academy of Television Arts and Sciences (ATAS)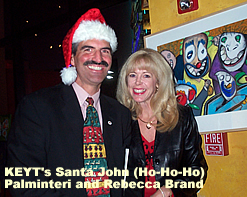 The Los Angeles Press Club (LAPC)

The National Lesbian and Gay Journalists Association (NLGJA)

The National Association of Hispanic Journalists (NAHJ)

The Press Photographers Association of Greater Los Angeles (PPAGLA)

The Radio Television News Association of Southern California (RTNA)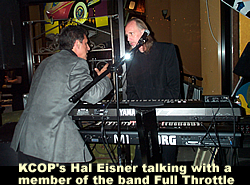 The Society of Professional Journalists (SPJ)
Throughout the night, leadership from the organizations took the stage to tell partiers about their groups and activities. They also talked to each other about how these groups could work together in the future on other projects. And, on top of that, they talked about how to make next year's party bigger and better than ever!