LAPD Signs up for APTRA Academy
Since it started Public Information Officers have proven to be a very important part of APTRA Academy! That's because they add a dose of reality to the press boot camp for aspiring broadcasters.

A big part of APTRA Academy is simulating of a news event for Academy students to cover. At the end of the weekend they walk away with a tape of their story! In the first two years, the LA County Fire Department gave life to the simulation in two different ways. First, press conferences so authentic you would've thought you were at the real deal. Captain Brian Jordan's pressers seemed so legit that you started to think there really was a brush fire in the area. That was the simulated tale for APTRA Academy 2001.
In 2002, it was an earthquake and, not only was Jordan giving the updates in
front of the cameras, but firefighters actually role-played a rescue of one
of our mentors. Freelance Reporter Sarah Acevedo wasn't really stuck, but she
role-played her part so well it too seemed real. She, placed herself in a sewer pipe. The scene?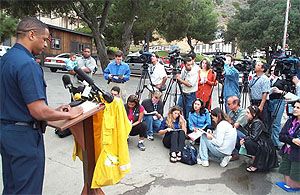 The earthquake scared her dog ... he ended up in the sewer pipe ... she went in to save him and got stuck. Jordan and the
department sent out a big red fire truck and rescue crew to save the day. The wanna be reporters and their photographers were all over it -- again -- like it was the real deal!!! It was pretty exciting.
This year Captain Jordan and LA County Fire will be back. That's greatly appreciated. And, this year a new voice will be heard along with Jordan's at those simulated PIO newsers --- that of the LAPD's Mary Grady whose signed on and will bring yet another dimension to the Academy. Grady joined the LAPD last year as Public Information Director after 20 years of service as a Broadcast Journalist. Her TV News credits include stints at KCAL, KCBS, KCOP TV and Biznews One -- all in Los Angeles.
The Academy's thanks Mary Grady, the LAPD, Captain Brian Jordan, LA County
Fire and all of those who give of their time to help those with dreams of
making a life in Broadcast News.