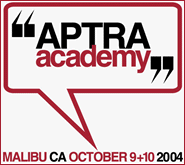 APTRA Academy Year Five
THE NEW LOGO
By Nancy LeMay

For the last five years, it's been my happy task to try and get, in the form of a logotype design, the uniqueness of the annual APTRA Academy. Each year, the design has been different. Each year the new logo design is a take on the concept, the activity, the fun and the aims of the Academy, and it's amazing energy?

This year, the design is based on a dialogue balloon, a great graphic symbol for the spoken word and a form known to all consumers of comic books, graphic novels and advertising (that?s pretty much everybody). Inside the balloon are big quotation marks. Together, they describe thought, conversation, exchange, and action. These are the essential elements of the APTRA Academy, which is a two-day, non-stop, "as-real-as-we-can-make-it" broadcasting boot camp. It has been a sold-out event each October since it's inception in the year 2000. Several "graduates" have launched their TV careers with the experience gained at this weekend workout.

My participation as a designer includes the logo, as well as news graphics that each participant can cut into his or her demo tape. Each student will report, shoot, write and supervise the editing of a news story for the fictional "News 12 Malibu" (which has a logo of it's own). Each person leaves at the close of the two days with that demo tape in hand.

That goes for APTRA Academy's Anchor Camp as well!

If you're not familiar with it, news directors, managers, producers, reporters, assignment editors, shooters and news editors from all over California, Nevada and elsewhere take part in helping aspiring reporters and anchors as a way of giving back for some of the help we received during our own first days.

There is no other program like it. We try to make it as real as we can; the success of the program is certainly real enough.