APTRA's Noticias En Espanol is a Big Success

By Anthony Marquez
"Noticias en Espanol 2004" was the title of an APTRA-sponsored workshop held Saturday, March 6 in West Hollywood. The half-day bilingual seminar on Spanish-language television and radio was attended by 32 people.
The participants listened to four prominent panelists who discussed the Spanish-language television and radio market. The panelists included:
* Paul LeFort, account executive for Nielsen Media Research. In his role at Nielsen, Paul works directly with news, sales and management employees of Los Angeles area television stations.
* Al Corral, vice president of news, Telemundo Los Angeles. Corral, who has been in the business for 25 years, led Telemundo Los Angeles news teams to eight Golden Mike Awards in 2003, including "Best News Cast" for the Los Angeles market.
* Zeke Chaidez, vice president and general manager, Radiovisa Network. Zeke, who has been in Spanish-language radio for 12 years, is the only Hispanic vice president and general manager in the Los Angeles radio market. Radiovisa Network is the newest Spanish-language talk radio network in the United States.
* Joe Gomez, assistant news director-executive producer, KABB, San Antonio, Texas. KABB is the Fox affiliate in San Antonio. Joe, a news veteran of 15 years, was previously news director for KERO, the ABC affiliate in Bakersfield, California.
At work the workshop, APTRA was presented with a proclamation from the City of West Hollywood for holding its bilingual journalism seminar at Plummer Park in West Hollywood. The presentation was made by Hernan G. Molina, deputy to Council Member John J. Duran.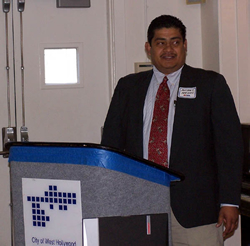 Anthony Marquez, LA Bureau Chief for the Associated Press, welcomes everyone on behalf of the AP.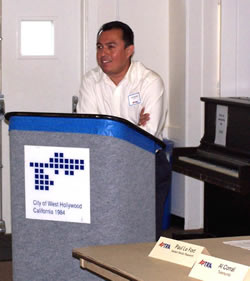 Joe Gomez, Assistant News Director for the FOX affiliate in San Antonio, Texas, explains how to crossover from Spanish-language news to mainstream media
APTRA's President Hal Eisner kicks off the association's first Spanish-language media seminar.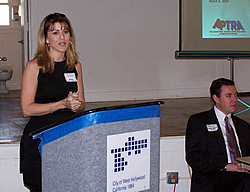 APTRA Board member and seminar producer Gigi Graciette welcomes everyone to The Great Hall in Plummer Park. The site of Saturday's Noticias En Espanol workshop hosted by APTRA.