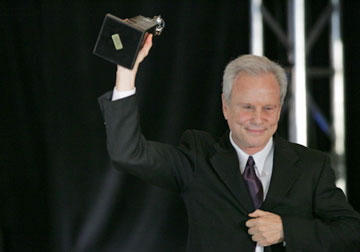 Steve Edwards accepting his award
THE MARK TWAIN AWARDS IS A NIGHT OF
SONG, WORDS AND SURPRISES!
From the Florida pop group TGK to a dead-on impersonator of Mark Twain, Mike Randall, the first Mark Twain Awards was filled with entertainment and honors for excellence and accomplishment!
Mike Randall, a Buffalo weathercaster, spent several hours putting on the makeup and costume that transformed him into Mark Twain. He's performed Twain in over 2000 performances, but this was the first time he was actually able to put a statue of Twain (APTRA's new trophy) in his hands! It was also the first time he was introduced by Emmy Award winning actress Kathryn Joosten.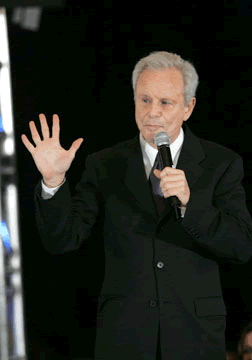 Edwards speaks to the audience
Presenters throughout the evening included the night's hosts Jim and Tamra Meskimen, actors Kevin Wright and his wife Jacee Jule from "Days of our Lives," veteran actress June Lockhart, who was on the delivering end of one of the night's many surprises when she popped open the envelope and gave the Chris Harris Reporter of the Year Twain to the award show's producer and APTRA President Hal Eisner.
Besides Steve Edwards getting the new Stan Chambers Award For Extraordinary Achievement from Chambers, who was surprised by the renaming of APTRA's Lifetime Achievement Award, an Special Achievement Award was given to Media Pool Coordinator Peter Shaplen for his work in the Michael Jackson and Scott Peterson trials.
Throughout the evening students from Mount San Antonio college walked out onto the ballroom's runways bringing the awards to the winners. According to APTRA's President Eisner, who interviewed them near the beginning of the show, this was a new approach to handing out awards. Trophy handlers like Tyra Mason brought a lot of personality to the job! Here, handing out a trophy to KCBS Radio's Doug Sovern.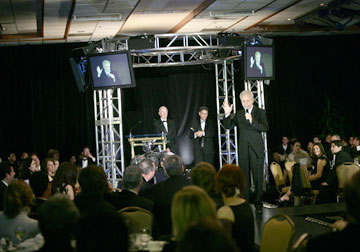 There were some sad moments when there were remembrances of those who had passed away in the past year. That very day international singing star Buck Owens, the owner of multiple radio stations including KUZZ in Bakersfield died. KUZZ News Director Mark Howell talked fondly of his boss of over two decades as Owens music filled the room.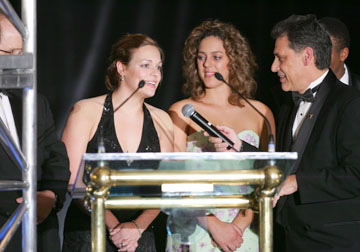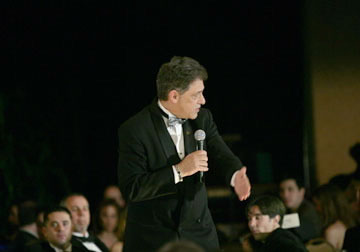 Hal speaking to the audience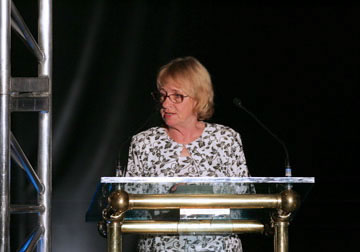 Emmy Award Winning Actress Kathryn Joosten from "Desperate Housewives," "Joan of Arcadia" and "The West Wing" introduces Mike Randall as Mark Twain.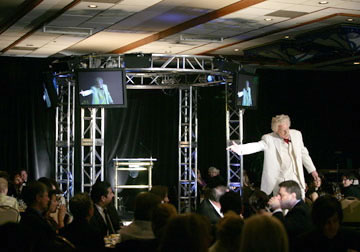 Mark Twain is performed by Mike Randall of Buffalo, New York. It takes 3 hours to put on that makeup.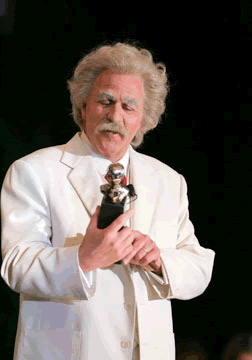 Mark Twain is performed by Mike Randall of Buffalo, New York. It takes 3 hours to put on that makeup.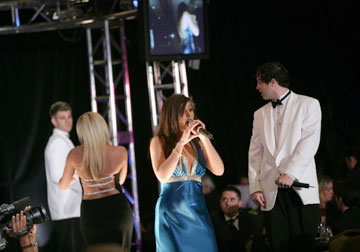 TKG performs live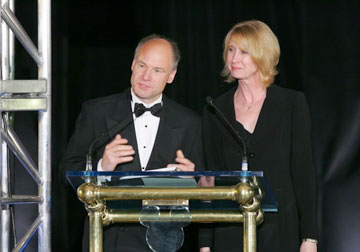 Jim and Tamra Meskimen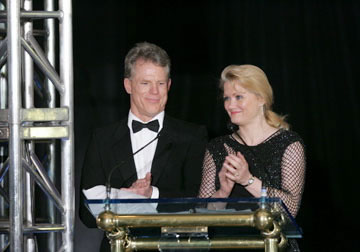 Kevin Patrick Wright and Jacee Jule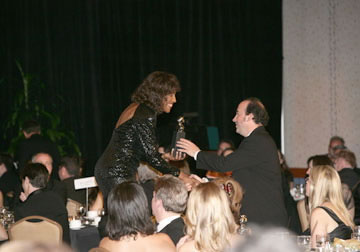 Tyra Mason giving a Twain to KCBS Radio's Doug Sovern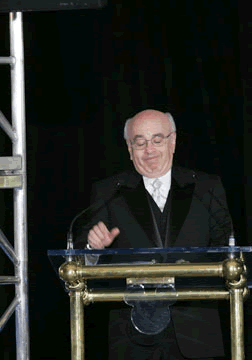 KUZZ's Mark Howell, remembers his boss and KUZZ station owner Buck Owens who died the same day as our awards.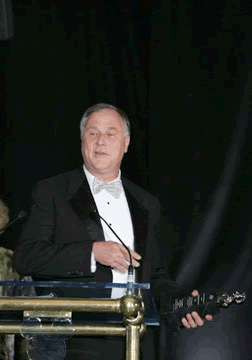 Peter Shaplen speaks proudly in his acceptance.




June Lockhart announcing Hal Eisner as the Chris Harris Reporter of the Year


June Lockhart from the early days on TV of Lassie and Lost In Space was a huge hit! Presenting Hal Eisner with the Chris Harris Reporter of the Year award.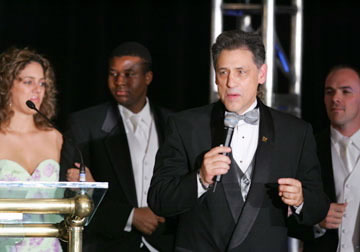 Hal speaking to the audience and then introducing the people handing out the awards in the audience