APTRA Academy - What to Bring


So, you've registered?
In an effort to prepare all academy participants and mentors, Hal has drafted a list of "MUST-HAVE's" for your APTRA Academy Weekend!
Remember: This is a camp-type atmosphere. Cabins and cots are provided.



What to Bring to APTRA Academy:

- Plenty of clothes! Warm clothing for nighttime, cool for daytime, and a jacket too!
- Skirts, heels and dressy clothes aren't recommended, but blazers or jackets for your "stand-ups" are great to put on quickly for the camera when doing on-camera work.
- Comfortable Shoes for all terrain walking
- Sunscreen/Sunglasses/Hat/Lip Balm
- Bath towels/washcloth
- Sleeping Bag/Blanket/Pillow/Mattress Pad/Linens (Cottontail provides spring style cots with a thin mattress pad)
- Camera for your memories!
- Babywipes or waterless hand gel
- Flashlight
- Battery powered alarm clock

If you're a participant, you may want to bring a few copies of your resume, or a business card. You may need them for networking!
Bringing Food is NOT recommended. Cottontail Ranch is located in the wilderness.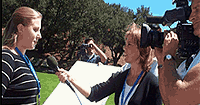 About Cottontail Ranch

Cottontail Ranch is located in the scenic hills of Malibu Canyon, CA. Founded in 1958, Cottontail Ranch is home to summer camps and adult retreats throughout the year. Cottontail Ranch has been owned and operated by Pepperdine University since 1997.
In October the climate can be chilly at night and hot during the day. Please be prepared by bringing clothing for both climates.
Cottontail offers enclosed cabins, and private-stall showers and restrooms. Separate female and male facilities are available, similar to that of typical camping grounds facilities.
Pepperdine University is a private university, therefore there are absolutely NO drugs or alcoholic beverages allowed on the premises of Cottontail Ranch.