July 2001

July 23rd, 2001
KEVIN RETURNS TO THE BAY AREA: Kevin Keeshan is the new news director at KGO-TV/San Francisco. It's old home week for the USC grad, who spent six years at the ABC-owned station, including a stint as an executive producer of special projects. Kevin never left the ABC family...he went from KGO to ABC's KFSN/Fresno as news director.

GE SAYS "NO SALE" FOR NBC: Robert Wright, NBC's Chief Executive Officer, told the Los Angeles Times that General Electric has no interest in selling the television network. Wright told the newspaper GE likes the business. There has been some questions about NBC's future with the retirement of NBC's biggest booster, GE Chairman Jack Welch. The article notes NBC's cable properties, CNBC and MSNBC are worth an estimated 15-billion dollars...about half of the company's value.

A SPORTING MOVE: Alex Flanagan trades uniforms, moving from Fox Sports in Los Angeles to ESPN, as a Los Angeles based sports reporter.

MAYBE IT'S NOT EXCITING...BUT IT AFFECTS YOUR TV STATION: Cable television giant Comcast is trying to buy AT&T's cable television unit. The proposed 40 billion (yes, that's with a B!) would create a company which would sever 23 of the nation's 70 million households. The kind of clout could determine the future of new, and existing cable networks. The company would have the ability to move cable services, or broadcast stations to prime spots on the cable dial...or to cable Siberia (think cable channel 77, for instance!) One major flaw in Comcast's plan: AT&T has rejected the offer. However, most analysts say that AT&T could use the money, and will have to eventually consider selling its cable operations.

ARBITRON BATTLE: The ratings service is facing a battle from one of its major customers, Clear Channel Communications. Clear Channel is the nation's largest radio station owner, with almost 12-hundred stations. The battle is mainly over money. After nine months of talks, Clear Channel didn't renew contracts for more than half of its stations. The company also wants changes in the way ratings are compiled. Arbitron officials say they're negotiating to try to solve the stalemate.

July 16th, 2001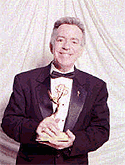 CONGRATS TO KCOP DIRECTOR AND TV ACADEMY GOVERNOR HARRY KOOPERSTEIN whose all smiles these days after snagging an Emmy at the Rocky Mountain Emmy Awards June 30th. The award, handed out at the Scottsdale, Arizona ceremony, was for Best Entertainment Program for producing and directing "Salute to the Symphony." It showcased the Salt Lake City Symphony Orchestra. Harry did the program for Salt Lake City station KTVX. Way to go Harry!
Read Harry Kooperstein's article in From the Field NOW!

LEAVING A BAD TASTE IN THEIR MOUTH: The big...and bad news from the San Francisco Bay area is the apparent demise of the seven year old "Bay TV" Newschannel. The 24-hour a day service on cable Channel 35 featured newscasts, talk shows, college sports, and more. It's a partnership between KRON-TV and AT & T Broadband. KRON owns a majority interest in the channel, but AT & T provides the cable channel. Cable company officials say the service has been a long-time money loser, and they plan to plug in the popular Food Channel to the more than 1.5 million subscribers who get Channel 35. Officials with KRON, which is now owned by Young Broadcasting, say they don't want to discontinue the service, but now have no choice. It's expected that more than 40 employees will be laid off when the servce shuts down July 31.

NATALIE MAKES A MOVE: Natalie Tejeda is now El Centro Bureau for KYMA-TV Yuma/El Centro. She was working for a cable station in Garden Grove. Natalie is also one of the graduates of the first ever APTRA Academy at Pepperdine University. Check out comments from her right here on our website!

July 2nd, 2001

WE'RE GLAD FOR GRAD: Longtime KNX-AM/Los Angeles sports anchor (and sports director) Steve Grad is adding television to his schedule. He's the new weekend sports anchor for KTLA/Los Angeles. Grad has focused on radio in recnt years, winning a boatload of Golden Mikes and APTRA awards...but he did television sports in Portland and San Antonio earlier in his career. Grad will continue sports duties at KNX. He joins KNX Business Anchor Bob McCormick, and KTLA's Entertainment Editor Sam Rubin is splitting time between the two stations.

CALL HIM MR. PRODUCER: Bill Applegate Jr. is the new producer of the KCOP/Los Angeles 10 p.m. weeknight newscasts.

APTRA TIME: If you're trying to get ahead on television or radio, write this date down: July 21st. That's when APTRA will again host its biggest regional seminar of the year at the studios of KEYT-TV, in Santa Barbara. News Directors will be there to critique your tapes, panels will include feature reporting, producing, television and radio anchoring, and there's much, much more. Plus, unlike some of those for-profit seminars around the country, this one will only cost you $30.00 in advance (and that's for a tri-tip barbeque lunch!). Space is limited...it's always a sellout...and registration after July 14th goes up to $45.00. Get complete details, and registration information from the APTRA.ORG website. KEYT's John Palminteri and I coordinate the seminar. You can call (805) 493-3043 for more information.