Archived Weekly Features
The Buzz

Lance Orozco has been a part of Haleisner.com since our first launch and we'll miss his weekly updates of what's new in the world of broadcasting. Lance has handed the reigns over to Joy Short. She'll now be covering our weekly feature, The Buzz, and you can read it here.

May & June 2001

June 25th, 2001
ANOTHER BAY AREA CHANGE: Ed Kosowski leaves the news director's post at KGO/San Francisco for WHDH/Boston.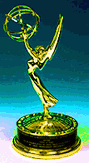 Saturday night's Emmy Show celebrated excellence in Los Angeles Television

EMMY CONGRATS: You'll find lots of copy on the Los Angeles area Emmys elsewhere on Hal's Emmy page...but if you missed it...here's a few notes. Congratulations to the crew at KTTV/FOX 11 for winning the Emmy for "Best Daytime Newscast" for "Good Day, L.A.". KCOP/News 13 won the Emmy for "Best Regularly Scheduled Newscast Over 35 Minutes". And, double congrats in the category of "Best Regularly Scheduled Newscast Under 35 Minutes"...the 11 p.m. newscasts at both KNBC and KVEA are both Emmy winners.

LEAVING THE COAST: Delia Maldonado leaves her post as n.d. at CBS affiliate KION/Monterey-Salinas and Fox affiliate KCBA/Salinas-Monterey to join the Associated Press.

UNIVISION EXPANSION: The nation's biggest Spanish-language broadcaster, and owner of KMEX/Los Angeles is buying two stations in Puerto Rico. Univision is also taking over affiliation agreements with two other stations there. Industry analysts say they deal is worth about $50 million dollars. Univision will get two VHF independent stations. The deal includes WLII/San Juan, and WSUR/Ponce. This is the first ownership move by the L.A. based broadcaster and network owner into Puerto Rico, which has more than 30 television stations.

June 18th, 2001

BIG CHANGES FOR YOUNG BROADCASTING: Dennis Herzig is leaving his News Director's post at KCAL-TV/Los Angeles. There's no word yet from Young Broadcasting on a replacement. Meanwhile, Mark Berryhill is leaving his job as VP/News at Young's KRON/San Francisco. Stacy Owen has been promoted to news direcor at KRON, the NBC station for the Bay Area which is set to become an independent at the first of the year.



KCET in LA gets new News Director


PUBLIC BROADCASTING DOINGS: Phillip Bruce is now news director at KCET/Los Angeles, taking over news management duties for Al Corral, who left to join Telemundo in L.A. Bruce has been with KCET since 1999, as a reporter for the station's news and public affairs show "Life And Times". Prior to KCET, Bruce was a reporter at KTLA/Los Angeles and KHOU/Houston.

COURT TV BRANCHES OUT: Court TV's program "Hollywood At Large" is now also airing in syndication, on KNBC/Los Angeles and WNBC/New York. The program is hosted by former L.A. news anchor Wendy Walsh. The program focuses on legal news involving celebrities, and on television shows which deal with law enforcement and court issues.

BIG ROAST RESPONSE: The Radio Television News Association of Southern California held an old-fashioned "roast" for outgoing Los Angeles Mayor Richard Riordan. KTTV's John Beard served as Master of Ceremonies, and the "roasters" included KCAL's Dave Bryan and RTNA President Crys Quimby. The Mayor made a ten minute video, a la Bill Clinton's White House Christmas party tape, taking a fun look at his future plans. (There's speculation he may run for governor of California). Among his quips: "Maybe you didn't know this, but the new City Charter gives me pardon powers. I pardon the Bush twins for acting like Democrats (Riordan is a Republican). And, I pardon Linda Breakstone (KCBS Political Correspondent) for...well...being Linda Breakstone!"

MEL'S ON THE MOVE: Mel Karmazin is making overtures about expanding Viacom in a big way. He says he'd love to buy NBC, if GE would sell it. (It would take a change in FCC regulations, even if GE wanted to sell, because it currently prevents companies from owning two major networks. UPN, which is owned by Viacom, isn't considered a "major network". Neither is the WB. Meanwhile, he also says he's interested in CNN. However, AOL/Time Warner officials say they won't sell it. CBS and ABC have both had talks with CNN about cost-sharing agreements, for things like foreign bureaus.

June 4th, 2001



Not content to be a "media star," Larry McCormick has always been very active in the Los Angeles community

HONORS FOR LARRY Larry McCormick is celebrating his 30th year with KTLA, and many of his fellow broadcast journalists helped him celebrate. KTLA named its news studio after him, in a ceremony attended by people from almost every station in two. McCormick was L.A.'s first African-American anchorman

KCOP STILL IN LIMBO The Federal Communications Commission has put off the final review of News Corporation's bid to buy the Chris-Craft owned television station group, including Channel 13 here in L.A. The FCC says it wants to give its three new commissioners, who'll ultimately rule on the proposed deal, time to full review the proposal. The proposal calls for News Corporation, the parent of Fox, to pay $5.35 billion dollars for the ten stations. Most of the stations are UPN affiliates. The deal would give Fox two stations in L.A. and New York, and, as you probably know, put KCOP's news operation in jeopardy. The latest word is that the FCC may now act on the proposal in July.

DONE DEAL? Telemundo officially has taken over KWHY-TV/Channel 22 from Harriscope Broadcasting, creating L.A.'s first true TV duopoly. (KNBC and KPXN don't really count...even though they are both jointly operated out of Burbank, GE doesn't technically own its UHF partner). KVEA is planning to move KWHY'S news operation to its Glendale facility later this year. A number of KWHY employees have been pink-slipped, including two videographers, a producer, a number of production staffers, and the station's news director.

NEW TALK DUO Feminist attorney Gloria Allred now has a prime afternoon talkradio slot, after years of doing weekend and fill-in work. She's now teamed with Mark Taylor from 1-3 p.m. weekdays on KABC-AM/Los Angeles. Taylor is a longtime radio disc jockey, most recently on L.A.'s KBIG-FM. The duo first teamed up last summer, filling in during morning drive.


May 28th, 2001

MEDIA EXPERT DIES Steven Chaffee wrote 13 books, and more than 100 magazine and journal articles about media. His specialty was the role of mass media in political campaigns. The U.C. Santa Barbara professor defended the role of televised political conventions, saying that despite skeptical reporters and staged events, they still helped to educate the public on the politcal process. Chaffee taught at Stanford from 1981 to 1999. After retiring, he moved to Santa Barbara, were he taught at UCSB until his death May 15th from a heart problem. Chaffee was 65 years old.


Andrew (left) & Karel (right) were anticipating their return to the LA airwaves


TALK SHOW HOST DIES Part of the first openly gay radio talk show duo on commerical radio in Los Angeles died unexpectedly. Andrew Howard was half of KFI-AM's "Karel and Andrew" radio show, with Karel Bouley. Their show ran weeknights on KFI until several weeks ago, when it was pulled as part of a reshuffling of programing involving KFI and sister station KLAC. The duo was still under contract, and programmers say they were planning to return the team to the airwaves at one of the Clear Channel stations. "Karel and Andrew" had been with KFI for two years. Howard died from a pulmonary embolism. He was 34 years old.

END OF AN ERA The closing of the Pacific Coast Stock Exchange's trading floor in Los Angeles also marks the end of a broadcast era. That trading floor has long been the home of broadcast business reporters for KNX and KABC...people like Jim Newman and Charles Lazlo (not to forget longtime KNX business reporter Jere Laird). Owners of the exchange closed its L.A. and San Francisco trading floors in favor of an electronic trading format.

UNIVISION DEAL GOES THROUGH Univision, the owner of KMEX-TV in Los Angeles, received final approval from the Federal Communications Commission to complete its purchase of the USA Networks television station group. That's the station group run by Barry Diller. At one point, Diller had planned to turn the chain of major market UHF stations into local news and programming outlets, and had the format up and running at WAMI-TV in Miami. His L.A. station (actually, licensed to Ontario) never got a chance to dump its Home Shopping Network programming to join in the local programming experiment. Univision is planning use the stations to start its second Spanish-language network in the U.S. Telemundo isn't sitting still in L.A., with its purchase of highly successful Spanish-language independent KWHY-TV (Channel 22).

May 20th, 2001

MICHAEL JACKSON IS BACK No, we're not talking about the pop music star! Veteran radio talk show host Michael Jackson is back on the L.A. airwaves. Radio fans know he was a longtime midday host on KABC-AM. After a big shakeup, he moved to KRLA 1110, when it switched to a talk format about two years ago. However, because of the CBS/Viacom merger, the new company had to sell one of its radio stations...and KRLA was out. (Disney/ABC bought it, and it's now KSPN-AM, carrying ESPN Radio). So, where's Michael? He's at Clear Channel's KLAC-AM; on from 10 a.m.-2 p.m., followed by syndicated hosts Dr. Dean Edell and Clark Howard. As for news...so far it's "news in the can" from the Orange County-based Airborne news and traffic service. The station is still airing a mixture of talk, sports, and music.

BIG PROMOTION Daybreak anchor Wendy Theies has been promoted to weeknight anchor at KSBY-TV, the NBC affiliate for San Luis Obispo/Santa Maria/Santa Barbara.

GREG'S HEADED TO EGYPT Former L.A.-based CNN Correspondent Greg LaMotte is headed for the Middle East. He''ll be the Cairo Bureau Chief for the Voice of America. LaMotte was caught up in CNN's recent wave of cutbacks.

MORE CNN CHANGES? The New York Daily News reports the bosses at AOL/Time Warner have told CNN executives that the recent wave of cuts may not be enough, and that they may have to make more cuts. Meanwhile, there are different reports that CNN sopke with ABC and CBS about some possible joint operations. In the past, CBS and CNN explored the possibility of sharing overseas bureaus, but no agreement was ever reached.

CALL HIM MR. MIDDAY Award-winning consumer/investigative reporter of KRON-TV/San Francisco is now also a regular anchor for the NBC (for now!) affiliate. Ducey is now co-anchoring the station's midday show. He replaces John Kessler, who's still co-anchoring the stations 5-7 a.m. morning show. In addition to the morning show, Kessler is now picking up duties as an anchor on Young Broadcasting's co-owned "Bay TV" newschannel.

May 10, 2001


CONGRATULATIONS to new APTRA President Gary Daigneault, from KCDZ/Joshua Tree, and new APTRA Vice-President Bret Burkhart, from KGO/San Francisco. Gary will oversee the organization for the next year, and plan the 2002

APTRA Convention

, set to take place at the Disneyland Resort. Meanwhile, Bret will pick a site for the 2003 APTRA Convention, which will be somewhere (Monterey? San Francisco? Sacramento? Napa Valley?) in Northern California.

SEMINAR TIME! APTRA'S first seminar of the year is right around the corner. It will be hosted by APTRA Board Member John Carr, at KCRA-TV/Sacramento on Saturday, May 19th. It features panels on doing morning newscasts, your rights as a reporter, investigative reporting, and tape critiques. It's only $25.00 if you pre-register, and that includes lunch. Get all the details by visiting

APTRA

SHE'S CHANGED HER HANDLE.... Cyndy Ovalle has returned to AM in the AM. KVEN announces Cyndy as the new co-host of the morning Boomer show with Lee Marshall on KVEN 1450 AM, Ventura CA