October 2001

October 29th, 2001
MOVING EAST: Bianca De La Garza moves from KGTV/San Diego to WFXT/Boston.



KENT SPENDS LUNCHTIME ON TV: KCBS-TV/Los Angeles has plugged news back into its news equation weekdays at noon, pre-empting its low-rated "Women 2 Women" show indefinitely. Morning anchor Kent Shocknek is part of the revived noon newscast.

SNOW IN THE FORECAST: Brian Vanaken moves from his main weathercaster slot at KRCR/Redding-Chico to WFSB/Hartford.

ROLLING THE DICE: Cara Liu leaves KTNV/Las Vegas, joining KPHO/Phoenix as a reporter.

STATION SCRAMBLE: Layoffs and slumping advertising are causing problems for stations across the nation. Every day, you read about another 15 or 20 year veteran being told that his or her contract won't be renewed. Add to that the financial problem caused by covering the events of September 11th, and the war...and some broadcasters are saying enough. Ackerley is selling its 18 TV stations, including a gaggle in California (Santa Maria, Bakersfield, Santa Rosa among others) to radio giant Clear Channel Communications. Granite Broadcasting, owner of soon-to-be NBC affiliate KNTV/San Jose, is selling its Detroit station to stabilize its financial picture. It's paying NBC to carry NBC programming in an unprecedented deal. And, with NBC moving to buy Telemundo, and its stations, it opens questions about what role it will play in the future in PAX television, the family oriented network in which its owns a stake. Many PAX stations are operated in conjunction with NBC-owned stations in major markets, like Los Angeles.

October 22nd, 2001

PETE MAKES A BIG MOVE: KRON/San Francisco anchor Pete Wilson moves to KGO-TV/San Francisco. KRON will lose its NBC affiliation to KNTV/San Jose at the end of the year, and has lost several staffers recently as a result. KRON plans to operate as an independent, adding more news. Its sister station is news factory KCAL/Los Angeles.

IN AND OUT: Out at KCBS-TV/Los Angeles is reporter Angela Black. In at KCBS is former KCOP anchor-reporter Natalie Pujo. And, moving up in the world is KCBS anchor Sofia Choi, who joins CNN.

"EVENINGS" BY THE BAY: Mike Rowe joins KPIX/San Francisco's Evening Magazine as co-host. Rowe has been hosting "The Most" for The History Channel.


October 15th, 2001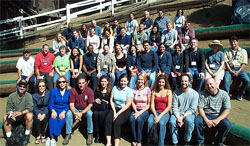 APTRA ACADEMY: It was fun, it was educational...and that was just what the instructors said! Congratulations to Hal, Jocelyne, and the rest of the crew who put together the second annual APTRA Academy for aspiring journalists. The details can be found here, but for college students...this program is a must for experiencing what it's like being a reporter or anchor. By the way, the next big APTRA event comes up in January, when the organization will have its annual regional seminar in Palm Springs.



FCC WILL ALLOW ADS ON PUBLIC TV'S DIGITAL BROADCASTS The Federal Communications Commission has voted 3-1 to let public broadcasters sell ads and other services on their digital television broadcasts, which are now offered by 38 of the nation's public TV stations. FCC chairman Michael K. Powell says that the change in policy in no way compromises "the soul of public broadcasting." Andy Schwartzman, president of the nonprofit Media Access Project, disagrees, and intends to challenge the decision in court: "The whole point of creating public television was to have a noncommercial preserve for television," Schwartzman says.


October 8th, 2001

LAST PIECE OF THE L.A. PUZZLE: The one remaining open news director's post in Los Angeles is now full. Kimberly Godwin is the new VP/News Director at KNBC-TV. She takes the post opened by the departure of Nancy Bauer Gonzales, who's now running the news department at Young Broadcasting's KCAL-TV. Godwin had been the VP/News for the NBC Television Stations Division.

SAD DAY FOR NEWS: KDNL/St. Louis is pulling the plug on its news department as of October 12th, firing nearly 50 employees. The Sinclair station has been doing news since 1995, when it switched from a Fox to ABC affiliation. The UHF station has always had a difficult time being competitive ratings-wise with the VHF stations in the market.

FORMER CALIFORNIA NEWSMAN RETIRING: John Howell III will retire as GM of WPXI/Pittsburgh at the end of the year, after 17 years on ther job. His career jump-started in California, though. Howell was n.d. at KSBY/San Luis Obispo, and later KFSN/Fresno in the mid-1970's.

MOVING SOUTH: Keith Garvin is moving from ABC-owned KFSN/Fresno to sister station WTVD/Raleigh, North Carolina.

October 1st, 2001

IT'S OFFICIAL: Nancy Bauer-Gonzales is the new News Director of KCAL-TV/Los Angeles. She had been n.d. at KNBC.

MOVIN' SOUTH: Randall Yip is the new morning executive producer for KNTV/San Jose, the soon-to-be NBC affiliate for the San Francisco Bay area he was last at KPTV/Portland.

SPORTY IN SAN DIEGO: Andrew Rivera joins the sports team at KGTV/San Diego, moving west from KVOA/Tucson.



TRACIE IN RADIOLAND: Tracie Savage is now anchoring at KFWB-AM/Los Angeles. She was last a reporter/anchor at KNBC-TV/Los Angeles.

LOTS TO TALK ABOUT: Former network talk show anchor Gil Gross is now "anchored" in Southern California, holding down the fort as the morning host at KLAC-AM/Los Angeles. Owner Clear Channel has been easing the station from a music format into a news and sports station.

HEADED EAST: Former KTCT/San Francisco sports talker Damon Perry is now at WXYT/Detroit.

LAURA PROMOTED: Laura Evans is now a weekend anchor for WTTG/Washington, D.C. Evens has been a reporter there for two years, after moving east from KEYT-TV/Santa Barbara.



Putnam spent over 26 years on KRLA.

Photo courtesy: KRLA

GEORGE RETIRES: George Putnam retired from his talk show at KRLA-AM (formerly KIEV) Los Angeles, after 26 years on the air there. Okay, TV junkies. Do you know how he became an L.A. broadcasting notable? At different points in his career, he anchored the news at KTLA, KCOP, and KTTV in Los Angeles. If you're over 50, and grew up in Southern California, you know that name!

A BERRY GOOD PROMITION: KGO-AM/San Francisco Program Director Ken Berry is now station manager at KIRO-AM/Seattle.