September 22nd, 2002

MOVING ACROSS TOWN: Dave Williams is the newest addition to the anchor staff at KFWB-AM/Los Angeles. Williams recently was working at cross-town KNX, and before that, was a part of the KABC-AM morning team. Williams was a long-time anchor at KFBK-AM/Sacramento, as co-anchor of the top-rated morning show.

GOING NETWORK: Longtime KFWB anchor Ron Kilgore joins the Wall Street Journal Radio Network.

WAKEUP CALL: Jim Rondo is now the local "Morning Edition" host for NPR affiliate KCLU-FM Thousand Oaks/Santa Barbara. He had been program director at KRUZ/Santa Barbara. In addition to anchoring duties, Rondo is also the station's Operations Manager.

September 16th, 2002

HELPING THE KIDS: KCBS-TV and Viacom have set up a scholarship fund for the two children of KCBS-TV videographer Larry Greene, who died while on assignment in the Persian Gulf. Contributions can be sent to: The Lawrence Greene Scholarship Fund/CSFA, 1505 Riverview Road, St. Peter, Minn., 56082.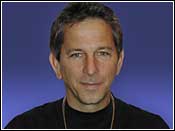 ADD ON LARRY: Much has been said about Larry elsewhere on this website, but enough can't be said about his great work ethic, spirit, and sense of humor. Larry was known around Columbia Square as the "King of the Bloopers", because he had reels and reels of outtakes from reporters, and newscasts. He's going to be missed in many ways, but especially for the "spark" he provided to the KCBS newsroom over the years.

FROM THE WINDY TO THE SUNNY CITY: Byron Miranda is the new Chief Meteorologist at KCBS-TV/Los Angeles, moving west from WMAQ/Chicago. Pamela Wright has left KCBS.

HE'S NOW THE BIG GUY: Kevin Garcia is now the weeknight sports anchor at KFMB/San Diego.

HE'S GOING TO THE ROCKIES: Tony Lopez is the new weekend Anchor for KCNC/Denver. He had been at KSAT-TV/San Antonio where he has served as co-anchor of the morning and noon news since 1998. His career started at KEYT-TV/Santa Barbara, and included stops in Frenso and Sacramento.

HISPANIC JOURNALISTS DANCING THE NIGHT AWAY: Let's Conga! That's the theme for NAHJ's region 8 fundraiser September 26, from 7-9 pm at the Conga Room in Los Angeles. There's a silent auction and a raffle. The grand prize is 2 free roundtrip tickets to Puerto Vallarta. The ticket gets you in to the event, with appetizers, and later allows you free access to the dance club.

DUOPOLY MANIA: How are the growing number of duopolies affecting news operations in Los Angeles? With KCBS/KCAL, KNBC/KMEX/KWHY, KTTV/KCOP, KTLA and the L.A. Times, almost everyone is affected. The Radio Television News Association will use that as its theme for its annual "State of the Industry" dinner Thursday, October 10th at the Sportsmen's Lodge in Studio City. Some of L.A.'s top news managers will talk about the situation. The dinner is open to everyone, with cocktails at 5:30, and dinner at 6:30. Tickets are $30.00, with proceeds benefitting the RTNA Scholarship Fund. Send your checks to the RTNA, 1520 N. Hayworth Avenue #17, Los Angeles (Ca) 90046. You can get information by e-mailing the RTNA, at RTNA@msn.com

IT'S NEWS AT 5, 6, AND 11: Manuel Teodoro joins KNBC/Los Angeles as a reporter, from his role as anchor of the syndicated show "Hispanics Today".

September 9, 2002
HE'S BAAAACK! Bob Stodal returns as the top newsman at KLAS/Las Vegas, as its VP of News. Stodal had been n.d. there for several years before moving to sister station WTVF/Nashville in the early 90's. He returned to Las Vegas in 1998 as head of KLAS's cable channel, Las Vegas One. He'll oversee both
operations now.

NEBRASKA-BOUND: KEYT-AM/Santa Barbara Sports Director Randy Lee is headed to Nebraska, where he'll be the voice of the Cornhuskers Basketball team on its regional radio network.


September 2, 2002
SAVE THE DATE: Immigration, and Radio talk Shows: Entertainment Or News are among the subjects for the next APTRA Seminar Saturday, September 21 in San Diego, at the KPBS Studios. Stay tuned to APTRA.ORG, and the AP State broadcast wire for the full seminar lineup, and registration information or click here.

BAY AREA MOVE: Valari Dobson Staab is the new President/General Manager of KGO-TV/San Francisco. Staab had been president and general manager of ABC-owned WTVD-TV/Raleigh-Durham, N.C. She takes over for Joe Ahern, who returned to the Windy City as g.m. of WBBM-TV.

BROADCASTING LOSES A FRIEND: Art Kevin was a key part of Los Angeles radio news history, spending 20 years at stations like KHJ and KFI. In 1968, he was broadcasting live from the old Ambassador Hotel on the RKO Radio Network stations when Robert Kennedy was assassinated. In the 1980's, he moved to Nevada, where he started a radio station, which he ran until 1995. Kevin died August 15th at his Las Vegas home, losing his battle with lung cancer. He was 67 years old.