September 2001

September 24th, 2001

ONE WAY TO GET RID OF FREEWAY CHASE MANIA: The federal government's continuing restrictions on aircraft flights mean that everyone's television news choppers remain grounded. It's frustrating for stations, but some producers and writers privately say they don't mind the fact that they don't have to deal with getting a show with "real" news content blown out for an often questionable pursuit.

GISELLE'S BACK: Well, coming back, anyway. Giselle Fernandez has been named the new co-anchor of the KTLA/Los Angeles "Morning News". Early in her career, she was a weekend anchor for the Tribune station (before it was owned by Tribune!) Her caeer includes stints at some network owned television stations, national magazine shows, and her own production company. Fernandez takes over the post vacated by original KTLA Morning News co-anchor Barbara Beck, who parted company with the station after a decade at the pioneer morning show.

CROSSTOWN MOVE? It's been rumored for months. Now, there are new reports Nancy Bauer-Gonzales will be the new news director at KCAL-TV/Los Angeles. Bauer was recently news director at KNBC, a station that has been swept up by a whirlwind of changes since getting a new general manager. The move would certainly give her more time with her family...her husband, Dave Gonzales, is a KCAL anchor.



LANCE'S MINI-EDITORIAL COMMENT: We might take a lesson from the BBC or ITV during the crisis America is facing. We've reduced our international news coverage to a handful of 15 second voiceovers in most local newscasts...and then, usually only if there's incredible video. Take a moment to watch a BBC newscast on BBC America, or your local PBS station which runs British newscasts. They cover world news every day...and with 2-3 minute packages to boot. During a visit to Great Britain about a month ago, it reminded me how far our newscast have "strayed" from the original objective of television newscasts, and how competition continues to send them further out of control. There is life outside of our ADI's!




A STAGGERING WEEK: "The Buzz" focuses on news, and not opinions. I'm going to veer off course for a moment though, to talk about what an incredible job many in our profession did this week. The cooperation was incredible, and to see networks sharing feeds, and videotape what America needed to come first was wonderful. In Southern California, we saw major radio chains like Clear Channel and Infinity dumping hundreds of thousands of commercials, and turning their music stations into all-news outlets for the day. CBS simulcast its news on MTV, VH1, and TNN. The Food Network and Home & Garden Networks signed off the air, out of respect for the victims, and their families. And, the all-sports radio and cable networks put things in perspective, with talk show hosts becoming instant newscasters. It was bumpy at times. We got stuff wrong. But, we got a lot right, and we were calm in doing it. When American needed us, we came through....and are still doing it.


RTNDA CANCELLED: Many news managers were among those stranded by the shutdown of America's air traffic system, a shutdown that couldn't have come at a worse time for them. RTNDA officially cancelled its 2001 convention, which had been expecting about 4,000 attendees.

GETTING THE SIGNAL OUT: It's a minor problem compared to the loss of life, but the destruction of the World Trade Center created a major problem for many New York City broadcasters. The towers were home to many TV and radio station transmitters. WABC-TV and WNBC-TV were knocked off the air, and had to turn to UHF stations to get their signals out. In the video of the towers, and the destruction, you can see the television towers.

OWNERSHIP APPEAL: One non-attack related story...Some major television station group owners are in a courtroom battle with the Federal Communications Commission over ownership limits. The FCC currently limits owners from owning stations which reach more than 35% of the nation's total audience. The idea is to promote diversity, and prevent monopolies. But, most broadcasters (except for ABC) argue that the rules are outdated, and that competition is driven by the marketplace. Attornies for the broadcasters challenging the rules called them "arbitrary". Viacom and Fox have a special interest in seeing the rules repealed, because after recent deals, the existing rules would require them to divest some of the properties they now own.

FINALLY, congratulations and our best to Peter Thorne. The KCOP reporter can now be seen on WPIX-TV 11 -- the WB station in New York. Says Peter: "I'm very excited at making this market leap and launching this new phase of my television news career." Thorne will be a general assignment reporter and backup anchor for the station's Emmy Award winning morning newscast. Good Luck Peter!!!

WHO SAYS DOT COMS ARE DEAD? The Tribune Company, and newspaper publisher Knight-Ridder are buying online job service Headhunter.net for a reported $200 million dollars. The two companies are already operating a joint online business, CareerBuilder Incorporated. The two sites get an estimated six million visits a month. They're taking on Monster.com, which reports 26 million visits a month.

VICTORY FOR VERONICA: Veronica Villafane is the new Region Eight Director for the National Association of Hispanic Journalists. She'll represent six states, including California. Veronica is a freelance reporter for KCOP (UPN 13)/Los Angeles. She says her main focus will be to increase membership, expand the group's job bank, and organize workshops.

NEW L.A. TELEVISION STATION: There's a new television station in Los Angeles. It's Spanish-language KAZA-TV, Channel 54. The station is part of the new Aztec America network, which is a joint operation involving Television Azteca, Mexico's second largest broadcaster...and Pappas Telecasting, which owns a chain of English-language stations in the U.S. TV Azteca is supplying KAZA's programming. The station has studios in Glendale, and its transmitter is on Mt. Wilson, along with those of the major Los Angeles stations. The intent of the new network is to take on giants Univision and Telemundo. Univision is planning to launch a second network next year, using stations it bought from the USA Networks.

AOL/TIME WARNER GETTING BIGGER? AOL/Time Warner is saying "no comment" to to reports it's bidding for Spanish-language network Telemundo Communications Group. Telemundo is owned by Sony and Liberty Media. AOL, General Electric's NBC, Viacom and Hispanic Broadcasting have signed confidentiality agreements allowing access to financial information in preparation for making a bid analysts say could exceed $3 billion for the Telemundo network and TV stations.

THE PATTER OF PITTA IS BACK: KTVU/Oakland "Mornings On 2" Reporter Mark Pitta is back on the job, after a self-imposed vacation. He told a San Francisco newspaper in mid-August that he was taking a vacation, because he was burned out from the early-morning shift.

September 3rd, 2001

MORE FIREWORKS AT KNBC: News Director Nancy Bauer Gonzales officially leaves the station today (August 31) after three years as the top newzie, and a dozen years at the station. The departure is officially described as "mutual". It's been a rocky year for KNBC, with a major shakeup underway that's included everyone from writers to anchors.

CBS TO THE RESCUE? The clock is ticking for OCN, the Orange County NewsChannel, which owner Adelphia says it will shut down in less than a week. Some prospective buyers have been looking over the books, including the Orange County Register. This past week, a top CBS News official toured the cable channel's Santa Ana facilities. OCN and KCBS-TV/Los Angeles have a long standing trade deal, with OCN supplying regular headline segments for KCBS's newscasts.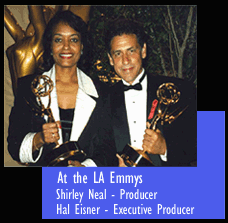 THE BOSS GETS HONORED: Hal Eisner, as in Hal Eisner.com, is elected to the Board of Governors of the Academy of Television Arts and Sciences representing the Los Angeles Area Peer Group. It's Hal's third term on the board. He's going to be busy, because he's the executive producer of L.A.'s annual Emmy awards, is on the APTRA and RTNA boards, and also supervises the APTRA Academy for aspiring journalists.

HE CAN KEEP HIS SWIMSUIT: Dan Shadwell moves from one CBS-TV affiliate to another in California. The KCOY/Santa Maria anchor/reporter is headed to KFMB/San Diego.

PACK THAT COAT: Weathercaster Angela Buckman moves from KCRA-TV/Sacramento to WISH-TV/Indianapolis. She'll anchor the 5, 5;30, and 11 p.m. newscasts at her new TV home.

FOX 40 PICKS UP A SPORTSCASTER: Anthony Amey joins KTXL-TV/Sacramento from WPMI/Mobile, Alabama.