2003 LA Area Emmy Awards
More stars have joined this year's 55th Annual Los Angeles Area Emmy Awards show as presenters. In addition those already announced are Sharif Atkins from ER, Angelle Brooks from VIP, Scarlett Pomers from The WB's REBA, Debra Wilson from MAD TV. Those previously announced include Carlos Bernard, Bryan Cranston, Teri Garr, Linda Gray, Florence Henderson, Shaquille O'Neal, Paul McCrane, Della Reese, Mickey Rooney, Mindy Sterling, George Stultz, Alan Thicke and Constance Zimmer. John O'Hurley will host.

I'm proud to be the Executive Producer of the Los Angeles Emmy Awards for the 7 consecutive year! It's a wonderfully challenging opportunity -- bringing together some of Hollywood's best to honor LA TVs best! We'll have more about the upcoming LA Emmys next Monday, but for now I'd like to share our just-released press release on the celebration that's now just days away; a show you'll be able to watch live on the web by going to www.emmys.tv. If you live in Southern California you'll be able to watch a specially edited program on the LA Emmys a week later on KCAL Channel 9. Again, we'll have much more next week!
FOR IMMEDIATE RELEASE

THE 55TH ANNUAL LOS ANGELES EMMY AWARDS HONORS THE BEST IN LOCAL TELEVISION WITH A STAR STUDDED GALA ON SEPTEMBER 6TH

John O'Hurley to Host;


Alan Thicke

Bryan Cranston

Mickey Rooney

Teri Garr
Florence Henderson

Carlos Bernard
NORTH HOLLYWOOD, CA., August 21, 2003 – The 55th Annual Los Angeles Area Emmy Awards honoring excellence in locally produced entertainment, news, public affairs, sports and children's programming, will take place on Saturday, September 6th at the Academy of Television Arts & Sciences Leonard H. Goldenson Theatre at 6 p.m. An edited, one-hour version of the program is slated to air Saturday, September 13th at 6:00 p.m. on KCAL.
"Economically, it's a tough time to be in broadcasting – on a local or national level, " commented Bryce Zabel, Chairman of the Television Academy, "and yet this year's LA nominees have again exhibited a level of excellence that makes it a challenge to single anyone out. They have all told the many stories of our diverse community with intelligence, creativity and integrity. And thanks to KCAL, this evening celebrating local achievement will also be shared with the public during the September 13 telecast!"
The black-tie gala will be hosted by John O'Hurley (Seinfeld, To Tell the Truth) and features an all-star roster of confirmed presenters including film legend and Emmy Award-winner Mickey Rooney (Bill); Paul McCrane (ER); Linda Gray (Dallas), Carlos Bernard (24); George Stultz (7th Heaven); Florence Henderson (The Brady Brunch); Alan Thicke (Growing Pains); Constance Zimmer (Good Morning Miami); Della Reese (Touched By Angel); Mindy Sterling (Austin Powers); Teri Garr (Friends); Bryan Cranston (2003 Primetime Emmy Nominee for Malcolm in the Middle) and the Los Angeles Lakers' Shaquille O'Neal. The latest additions include Sharif Atkins from ER, Angelle Brooks from VIP, Scarlett Pomers from The WB's REBA, and Debra Wilson from MAD TV. In addition, there will be a special musical performance by legendary nostalgic rockers ShaNaNa. After the awards ceremony, the celebration will continue with a gala reception featuring the 21-member Big Band Alumni performing classic and contemporary standards on the Academy Plaza.
Best known for his role as J. Peterman on Seinfield, O'Hurley has catapulted into television's most versatile actor, show host, advertising name and feature film star. After a two-year stint hosting To Tell The Truth, and a three- year stint on USA Networks' Get Golf with the PGA Tour, O'Hurley returns to prime time this fall in UPN's new half hour comedy The Mullets.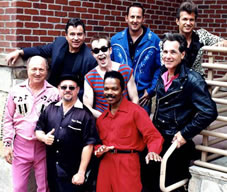 Executive Producer for the event for the seventh consecutive year is KCOP news reporter and LA Peer Group Governor Hal Eisner. Tri-Crown Productions, headed by Jeff Androsky and Carol Sherman, was selected to produce the LA Area Emmys for the first time. Since founding the company in 1987, Sherman and Tri-Crown president Androsky have amassed a diverse list of credits and programming for local, national and syndicated broadcast. These include sports programs with Magic Johnson, entertainment specials with Kevin Costner, documentaries with Robert Kennedy Jr., stunt specials with Evel Knievel, travel shows with Elle McPherson and magic spectaculars with Princess Stephanie of Monaco. Writer-producer J.M. Morris is returning to the awards for the 5th consecutive year.

This year, the LA Area Governors Award for lifetime achievement will be presented to veteran meteorologist Dr. George Fischbeck. The prestigious award honors individuals, shows and organizations that have made a special and unique contribution to Los Angeles area television. In addition there will be a special tribute to Los Angeles Lakers broadcasting legend Chick Hearn, one of the recipients of last year's Governor's Award and a special tribute to Bob Hope is planned as well.
The show will be webcast live on www.emmys.tv on September 6 at 6 p.m. For the second year, the webcast is made possible by Bruce Gammill, CEO of Guest Online.
# # #
Media Contact: Robin Mesger/Katrina Florence-The Lippin Group-323.965.1990