THE 2003 LA EMMYS:
The Governors Award goes to Dr. George!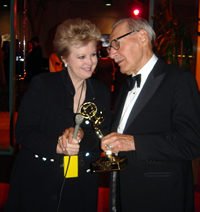 There are few people in this business known so well that people just call them by their first name. Dr. George is one of those people. Saturday night the television industry's one-of-a-kind humanitarian, Dr. George Fischbeck received a one-of-a-kind honor -- the prestigious Governors Award voted on by the Board of Governors of the Academy of Television Arts and Sciences.
Fischbeck, a staple in Los Angeles for nearly 30 years on Channel 7 Eyewitness News, spoke of taking advantage of opportunities in accepting the award. The moment was made even more special by a number of today's TV weather anchors paying tribute to the longtime fixture on KABC. After Academy Chairman Bryce Zabel began the presentation with some personal words of praise, there was a video filled with moments from Dr. George's past broadcast and charitable events. Next, KTTV's Mark Thompson, KTLA's Mark Kriski, KCBS/KCAL's Byron Miranda, Telemundo's Sal Morales, KMEX's Francisco Quiroz and KNBC's Rachel Boesing helped Zable bring Fischbeck to the podium with a tribute of their own.
All in all a very special night for a very special man.