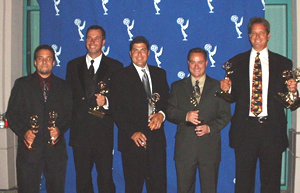 FOX Sports Net scored big at the L.A. Emmys with 11 wins! Here the FSN team proudly shows off it's gold!!!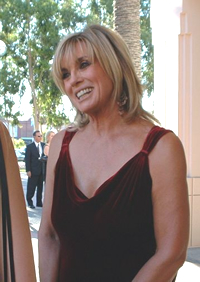 The stars were shining Emmy night, especially actress Linda Gray being interviewed by Access Hollywood before presenting a few of the night's awards.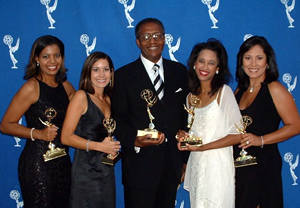 Nelson Davis and his team know the meaning of success. They picked up another Emmy this year to add to the many they've received in the past for "Making It! Minority Success Stories."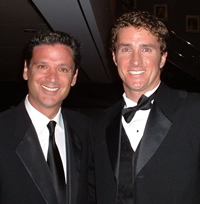 NBC4's Fred Roggin and Charlie Rosene are all smiles for a good reason! They just picked up the Emmy for Best Sports Reporting.

The 2003 L.A. EMMYS:
Pictures!
There are always lots of pictures taken on Emmy night, but this year there were more than normal. This year, more media showed up to cover the 55th Los Angeles Area Emmys than any previous year. Among the national shows were Access Hollywood and Entertainment Tonight. Virtually all of the local stations made it. Many local newspapers and trade magazines reported on the event. There were also lots of still photographers snapping away at the stars during press arrivals prior to the show.
Tina Staffon is on the Peer Group Executive Committee for the Academy of Television Arts and Sciences Los Angeles Peer group that sponsors the awards ceremony. She was among those out and about snapping digitals. Thanks Tina for sharing your shots! If any of you would like to share a few Emmy night photos, just mail your jpgs to Hal@HalEisner.com and we'll be glad to post them.