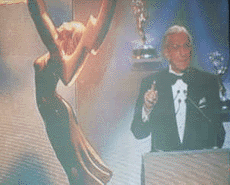 Screen shot of Ed McMahon, this year's LA Area Emmy Award Host.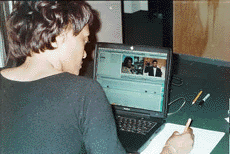 LA Area Emmy Awards producer, Shirley Neal works under the gun.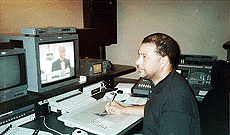 Engineer-in-Charge-of-Production, Bryan Keith Glispie works at Suite Sixteen post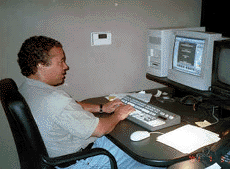 Marcus Juniel, Show playback coordinator, working hard to bring you LA Area Emmy Awards on TV!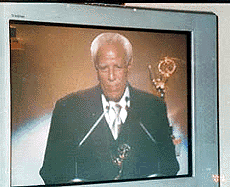 Screen shot of Emmy recipient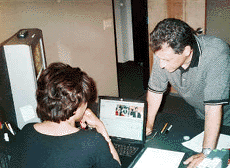 The Dream Team, Shirley Neal and Hal Eisner - Producing the LA Area Emmy Awards for TV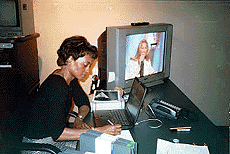 Shirley Neal at Suite Sixteen post, the post production company responsible for bringing you LA Emmy Awards for TV!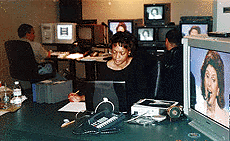 Working the night away at Suite Sixteen post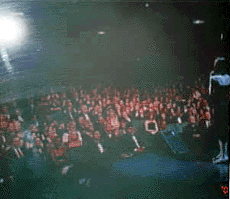 Screenshot of Elizabeth Densmore, the 13 year old singing sensation.
"LA Emmys: The TV Show!"


Whether reporting news stories or serving as the Executive Producer of the Los Angeles Area Emmy Awards, I'll be the first to tell you "I'm a pretty self-critical guy!" But, wow! what a neat show. For me, I'll always remember this year's LA Area Emmy Awards Show as the FABULOUS 53RD!

From the new and improved outdoor press section lining the red carpet at the entrance to the Pasadena Civic Auditorium to the increased singing and comedic performances & faster pacing on stage, the reviews have been very positive and we thank you. I say "we" because it takes a team to make it work and since most of us who put this year's show together were back for a 5th consecutive year -- we're learning what works and what doesn't. But, now we move into high gear as we do our post production magic and turn this year's event from a stage show into one for the small screen.

Last year for the first time in 23 years the local awards returned to television in the form of a one hour highlight program. It aired on KTLA Channel 5. This year KCOP Channel 13 is doing the honors. Last year we took what was designed as a stage show into post production and 19 hours and hundreds of edits later it was ready for air. Converting a stage show into a telecast is tough stuff. That's why this year we designed a stage show with TV in mind. Let's rewind to Friday June 22nd.

After 3 months of planning our crew loads into the Pasedena Civic Auditorium. The cameras, TeleprompTer, set and lighting are all put in place with an eye toward our telecast. Doug Armstrong from Touring Video, our Set Designer Joe Phelan and Lighting Director Dan Johnson are all on top of things. In Touring Video's production truck is the best audio, video and technical team anyone could ask for. Saturday is rehearsal day. All back for another go at it are our Emmy Award winning Director Harry Kooperstein, our prize of an Assistant Director Ted Lin and our terrific Technical Director Leo Moore. Ed McMahon goes through his paces. Our singers Brenda Epperson and 13 year old show stopper Elizabeth Densmore spend the afternoon rehearsing -- singing to the audience of volunteers and cameras. In fact, this year we added a 5th camera to the balcony to give the broadcast a view from the top given the increased audience we were expecting this year. And, we did get a bunch more than normal.

According to the theatre ticket takers we had 1122 in the house as opposed to years past when our numbers approached 700. And, what about those great volunteers? We had the best! Some of them worked backstage while others served as hosts for our celebrities. During rehearsals, most served as mock presenters to help us get through our practice runs. They were great. We even let them take a breather here and there :)

Now, comes the big job as we take 2 and a half hours of terrific content and reduce it to a one hour highlight show leaving room for 12 commercial minutes. This year, though, we'll hopefully have a much easier time piecing the program together. When our fantastic writer JoAnn Morris penned the script we had already decided what elements should go into the KCOP program. Actual "edit beats" were built into the script so we'd have a nice clean spots for collapsing the program and beating it into shape. If you missed it or want to see it again in it's entirety, the "Fabulous 53rd" is now showing on the web.

You can link to it from here. But, instead of looking back, let's look forward to the next big night for the Los Angeles Area Emmys -- "LA Emmys: The TV Show!"