LOOKING BACK
By Gary Brainard
I started working at KCOP in July 1974. The Newsroom consisted of 4 people. The Anchor, News Director and 2 photographers. We shot news on film and cut it ourselves. I watched the new operation grow to over a hundred employees. Over the years we had shows at 1pm, 2pm, 3:30pm 7:30pm 9pm 10pm 10:30pm and finally 11pm. And now a bit of history.....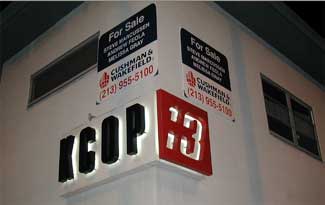 In 1946 KLAC ("Los Angeles California") Radio and Television was born. Two years later, in September of 1948, it was on the air with the help of Warner Bros. Studios, who supplied most of the stage equipment. The first broadcast was a USC vs Utah State football game live from the L.A. Coliseum.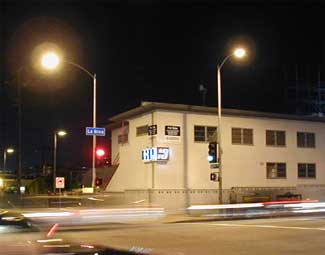 KLAC was the first TV station to use zoom lenses. Also KLAC developed a technology to put film on the air called "Cinema Scope". They later sold the rights to the process to 20th Century Fox. In 1954, Copley Press bought the station and changed the call sign to KCOP.
In 1956 Bing Crosby bought KCOP and we became the first TV station to use video tape. In 1960 Chris Craft bought the station and in 1961 moved to La Brea Ave. in Hollywood. In 2001, Fox Television purchased KCOP as well as all the Chris Craft stations. We had been to broadcasting the La Brea location from 1961 until a Friday night earlier this month. That was April 4, 2003. Immediately after the last show, The moving vans moved in and took everything they needed to KTTV's building in West Los Angeles.