GEORGE HARRISON:
The Man and the media coverage of his death
By David Brighton and Neil Burg
December 10th, 2001

I was saddened by the death of George Harrison. I'm dating
myself here, but I grew up with the Beatles and when Harrison passed away it really meant something to me. Sad as it was, I was lucky enough to get the Harrison story. Even luckier I was given the chance to take it to a different level -- to talk to those who, although saddened like me -- want to keep Harrison's musical legacy alive. I did that by talking with members of a Southern California Beatle look and sound alike group known as Imagine. What follows are two articles from two of the group's members. George Harrison sound alike David Brighton (who also does one heck of a David Bowie impersonation) and the group's founder and Ringo -- Neil Burg. Neil chose to talk a little about our coverage on KCOP and that which he saw on other stations and networks. For his compliments -- I thank him, but would like to give credit where it's really due! While I'd like to take credit for the originating the idea of telling the Harrison story through a Beatles cover band, it was the clever concept of our producer Bill Applegate Jr. Dave Wehlage shot it beautifully. Tony Davis did his usual editing magic and writer Bill Lawlor was a backbone of support on the piece. In the TV News business it always takes a team. The men who make up Imagine are a unique team as well. First, here's David Brighton's remembrance of a musical icon he enjoys impersonating...
All Things Must Pass
George Harrison: A Remembrance
By David Brighton
History shows us that every few centuries or so, an individual comes along who has a dramatic effect on the entire world, and leaves it a different place than it was before their arrival. George Harrison was one of those individuals.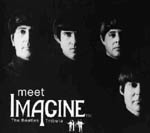 Anyone who was alive in the 1960's knows how the Beatles completely redefined the musical and cultural landscape for an entire generation. Their arrival on the pop music scene literally changed everything and has since become the standard for all that has followed.
The God given gift of musical genius cannot be manufactured or otherwise synthetically calculated. It simply is given to a select few every great once in a while. Yes, there are multitudes of "flavor of the month" pop sensations churned out on a seemingly daily basis by the multi-billion dollar entertainment industry. The vacuous and disposable pop music that dominates the airwaves today is sometimes very well crafted and can have a broad
appeal.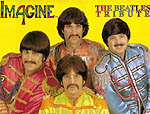 But George Harrison and the Beatles made music that moved people. George was one of those rare individuals whose music actually stirred people's souls. His singing, songwriting and guitar playing exuded honesty, sincerity and his own personal uniqueness. His lyrics and melodies were infused with true human emotion and spiritual depth. George was an innovator. No one played guitar like George Harrison. No one wrote songs like George Harrison.

Being a musician myself, I am one of the many who picked up a guitar for the first time because of George and his band mates. Everything about him was distinctive. He intuitively knew how to propel a song with his own peculiarly original style of guitar playing. His slide guitar playing in particular was totally unique. Memorable, melodic, and every note played from the heart. A lot of guitarist can play a lot of notes. It's the easiest thing in the world to play something technically impressive on the guitar, dazzle an audience with speed, without saying anything. When you listen to the guitar solo on the song SOMETHING from the Abbey Road album, George has got something to say with his playing. Very few players do.
He was and is an inspiration for all of us.


About The Author
David Brighton – is a vocalist, guitarist and songwriter currently living in Los Angeles, who has toured the world in a variety of musical groups. David has enjoyed portraying George Harrison in a number of the world's leading Beatle Tribute acts and is also currently portraying David Bowie in the stage production of SPACE ODDITY – the Ultimate David Bowie Tribute. www.SpaceOddityLive.com

GEORGE HARRISON'S DEATH: The Media Coverage
By Neil Burg

UPN 13-L.A.'s Hal Eisner dared to be different. I'm not saying this because Mr. Eisner included "Imagine- The Beatles Tribute Band" into his report about the untimely death of George Harrison. I'm saying it because it is true. I saw most of the other guys local reporting on the story, and what I saw and heard was just the same old stuff. For example, George being the "quiet Beatle." Dull! George was not the "quiet Beatle," on the contrary, he was very vocal, especially when it came to matters of interest to him. He would talk about them, write about them, and he let his voice be heard. Not only was George Harrison a great guitarist, but he also had a great sense of humor. He was quoted as saying to good friend Eric Idle when recuperating in the hospital after his 1999 stabbing in his home in England, "Why couldn't this had happened to someone in the Rolling Stones?" This does not sound like a "quiet" Beatle to me. The other guys just didn't get it right. KABC 7-L.A. News was quoted as saying that "George was a great slide guitarist", and proceeded to play Norwegian Wood as an example of his talent. Not only did George not play slide guitar on that song, but in fact, he had played the Sitar on it for the first time in any Beatles recording. Come on guys! If you want to get things right, do your homework! This band's history as far as facts are concerned, is headed towards a bad game of "telephone". Please keep the history in its proper perspective, especially when you're reporting on the greatest musical talents (George Harrison, and The Beatles) that ever were and never will be duplicated again.

About the Author
Neil Burg, Owner/Operator/Drummer of "Imagine-The Beatles Tribute Band"
www.imaginingthebeatles.com