The TOP TEN Reasons to be at APTRA CONVENTION 2002
By Bret Burkhart, Incoming APTRA President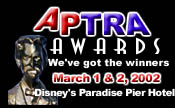 I recently read a statistic that many of us probably shared with our audiences. Referencing a study on the over-abundance of awards ceremonies, it claimed an award could be given out nearly every 20 minutes for an entire year. When you're sitting on the sidelines watching others pick up their awards at broadcasting conventions, you wouldn't mind a few additional competitions to boost your chances.

But there's a magic about being there, watching your peers and mentors get the applause and the plaques, that makes you work harder the next year. It motivates you to find that obscure short piece of tape that ran 11 months ago, pull an all-nighter dubbing your best work and scour your city looking for the a Fed Ex store open late enough to get your AP entry in before the deadline. And while you're in the crowd, sharing dinner and drinks with the best in the business, you're making friends and contacts that will last a lifetime. You're also trying to memorize styles and tricks to take back to your station, in the hopes that you'll be able to work the magic the next time out.

APTRA awards ceremonies honor the best talents in broadcasting, but they also plant seeds in the minds of up-and-coming talent. This year marks the golden anniversary of planting those seeds -- 50 years of highlighting success and inspiring dreams. This year's awards ceremony will mark the debut of special new awards, honoring legends in our business, and recognizing those that make an impact in their community.
Don't miss your chance to reach for the stars in Disneyland this March. Need another reason to go? How about ten of them?



THE TOP TEN REASONS YOU CAN'T AFFORD TO MISS APTRA'S 50th ANNUAL AWARDS CEREMONY AT DISNEY'S PARADISE PIER:
10: It's your chance to meet Mr. Eisner, up close andpersonal. (OK, so it's Hal Eisner, but you'll be just
as impressed)
9: You will not want to miss the tribute to our first-ever lifetime achievement award winner, Hal Fishman, whose 42-years of broadcasting magic will be showcased at the ceremony.
8: We'll need some guys and gals in the audience who aren't named Hal.
7: Disney's California Adventure Theme Park in March = no lines.
6: Where else can you see the most respected broadcasters in our industry sporting Mickey ears? Even before the bar opens?
5: You'll impress friends and colleagues with pictures of you and assorted Disney cast members. Or decide to ditch your equipment and become a cast member.
4: Convention meals ... you can't beat `em.
3: Stealing excerpts from winning entries will make you sound smart when you return to your station with abunch of great ideas.
2: You'll meet a bunch of new friends who will share your thinking that the awards were judged by a bunchof people who moonlight as Olympics ice skating judges.

And the number one reason you can't afford to miss the
awards ceremony at Disney's Paradise Pier... your chance to write off an entire family vacation asa business trip!
If you need more reasons to attend, contact any of the members of your APTRA Board of Directors. We're excited by this year's event, and look forward to seeing all of you next month.