Angels Fans Enjoy Spring Training
By Mike Campolo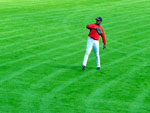 The 2003 Spring Training season is in full swing (so to speak) and the World Champion Anaheim Angels have retained the majority of their sluggers from last year. But, this is not a commentary on a particular game. That would be simple…. Rockies 8, Angels 7, attendance 3,496. Nor, do the statistics for a given spring training game matter to most fans.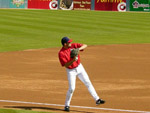 Observing a Spring Training game takes many fans back to a time where America's favorite past-time was not burdened by corporate sponsorships and unprecedented hype. Spring Training is a time of year where the majority of that is put aside in favor of love for the game. The Angel's facility; Tempe Diablo Stadium in Tempe, Arizona is a beautiful and quaint facility which is a relaxing environment for spectators to watch the action. You can actually hear the umpire calling strikes from the stands.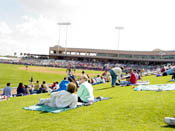 The outfield seating is on the grass and it is a pleasure to see families enjoying the game while eating a hotdog. The kids are playful and excited to watch some of their favorite players and many unfamiliar names all try to secure their spot on the roster for the season. Many fans come very early to catch a glimpse of the players in warm up and batting practice before the game. There is a small gathering of fans who wish to get a moment to say hello to players or to obtain an autograph. The players seem very accommodating and several even posed for photos with the children.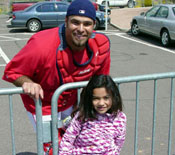 My six year old daughter was one such child and she was overjoyed by the opportunity to meet some of the players. Her favorites are Shawn Wooten, John Lackey, and Brendan Donnelly. Each one of these players was cheerful and happy to bring a smile to many children's faces. There is much for these players to be proud of on a professional level but, in addition they bring more to the sport by exhibiting such community pride and leadership. Ah, Spring Training. Yes, the memories return.



About the Author
Mike Campolo, who's day job is Labor Relations at Fox Entertainment, has been A life long Angels fan. Between stints negotiating labor contracts, you will find him and his daughter, with rally monkey in hand, at Edison International Field cheering on the Angels