NAB/RTNDA
THROUGH THE EYES OF AN ASPIRING JOURNALIST
By QUYEN CHUNG
The National Association of Broadcasters (NAB) and the Radio-Television News
Directors Association (RTNDA) joined for one convention for the first time
this year.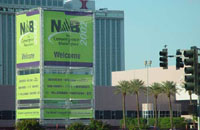 As a first time participant, it was overwhelming. The NAB Convention is the world's largest media show and the RTNDA gave aspiring journalists the opportunity to meet hundreds of news directors at one place. Combine the two and Las Vegas had someone from the broadcast industry at every corner.
Participants attended career fair, exhibit halls and seminars. Although the NAB and RTNDA were at the same place and time, they required separate tickets for their events.
RTNDA@NAB Career Fair, free event students should not miss.
This was an opportunity for students to learn about developing programs and
open positions at different networks. Participants made contacts with
recruiters, giving them links to opportunities in the future.
Students planning to attend next year's RTNDA@NAB Career Fair should BE
PREPARED! Students serious about making an impression showed up in
professional business suits with business cards, resumes and demo tapes on
hand.
NAB Exhibit Halls, wear comfortable shoes.
Passes to only the Exhibit Halls at the NAB Convention were $150. Students
should check around campus, professors might have passes to attend the
exhibits for free or know someone who does.
With approximately 1,400 exhibitors, the displays of broadcasting equipment
and professional sale pitches were endless.
Vendors from around the world reserved spots at the exhibit halls to display
their latest and greatest gadgets for the broadcasting industry.
Some vendors had elaborate set ups that included stages with actors.
Participants had the chance to play with high tech camcorders, editing
equipment and special effects systems. Many vendors featured equipment that
would enhance production for use with HDTV. If there was anything a newsroom
needed, it was available at the exhibit halls.
Seminar packages will set you back a few bucks.
NAB full conference registration packages cost up to $900 depending on date
of registration and membership status. RTNDA seminar packages for students
cost $350.
Seminars at both conventions steered towards professionals already in the
industry. Several sessions may be helpful to students, such as preparing for
contracts and writing development. Reception dinners and cocktail parties
were also events students benefited from if they paid for seminar packages.
Students interested in attending workshops should attend local journalism
events like the Associated Press Television-Radio Association (APTRA). These
events are more focused on students. They are smaller and casual, giving
students time to meet industry professionals on a personal level.
As aspiring journalists, it is essential to network with broadcasters working
in the industry by attending conventions and seminars. The RTNDA@NAB
partnership was a huge success and coordinators are anxious to make next
years convention better.

About the Author
Quyen Chung is a junior at Cal State Fullerton. She started her broadcast journalism training in August 2001. She has experience as a field reporter and show host. Quyen produces, tapes and edits stories for campus events and all over Orange County. She hopes to become a field reporter after graduation. Her long-term goal is to host a television news magazine show and produce special investigative projects. You can see samples of her work at her website, http://www.qtcmedia.com.