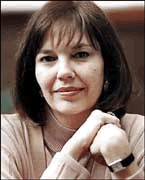 New York Times Reporter Judith Miller Speaks At A Southern California Gathering
By Tom Clanin
Judith Miller, The New York Times reporter who spent 85 days in federal prison for refusing to identify a source to federal prosecutors, told a Fullerton audience Saturday, October 15th that she believes her refusal to cooperate sends a message to other government whistle blowers and leakers that reporters can be trusted to keep their word.
Miller attended the California First Amendment Coalition's 10th annual Open Government Assembly to present an award to Mark Felt, who admitted recently that he was "Deep Throat": Washington Post reporters Bob Woodward and Carl Bernstein confidential source for their Watergate
stories.
Miller told the luncheon audience at Cal State Fullerton that confidential sources "are the lifeblood our profession."
"Without Mark Felt, the public would not have known that a third-rate burglary was the tip of the iceberg of corruption and malfeasance," she said. "The country owes Mark Felt an enormous debt."
Miller said there is a growing threat to reporters who try to protect sources like Felt, but without these sources, "the public would only know what people in power what them to know."
She said that people have varied motives, both good and bad, for wanting to leak information, but that truth and the significance of the information is more important than the motive or political affiliation of the source.
Miller said 39 states and District of Columbia have shield laws protecting reporting, and she called on the journalists in the audience to lobby and editorialize for a federal shield law.
She said she agreed to testify only after her source, identified as vice presidential aide Lewis Libby, had convinced her in both a letter and phone call that "he really, really wanted me to testify."
Nick Jones, Mark Felt's grandson, accepted the award for Felt, who could not attend. Jones said Felt was thankful and honored.
Jones said his grandfather is in good health, "but he's 92 and his memory isn't as sharp as it once was."