APTRA CONVENTION 2002
BY Outgoing APTRA President Gary Daigneault
From basic first amendment rights to high technology, there is something for every working or hopeful journalist at the upcoming APTRA convention planned for March 1-2 at the Disney California Adventure Park.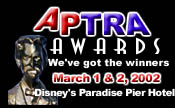 For those wanting to break in to the business or looking to enhance theirhire-ability, our opening session Friday night is a must. You will hear fromtop talent consultants and agents, as well as from working News Directorsin both TV and Radio on exactly what they are looking for. National Talent Consultant Don Fitzpatrick will lead this stellar panel. Afterward you will get a special behind the scenes look at the newest Disney Park.
On Saturday a must-attend primer on Freedom of the Press, what every
reporter, producer, and anchor needs to be aware of while pursuing stories
involving government information. A panel on Political Coverage is just in
time for the upcoming elections and the latest in newsroom technology will
be offered at 10:30.
Our own Hal Eisner, Dean of the APTRA Academy, will spell out what is in
store for the academy this year!

During the afternoon, reporters who worked at Ground Zero in New York will recount their challenges and experiences. An opportunity to have your tapes reviewed by the best in the business follows as well as technique sharing from award-winning videographers.
Join CNN Correspondent Frank Buckley as he tells how he covered the
action in Afghanistan from the deck of an Aircraft Carrier and then join a
Pulitzer Prize winner with insight on letting the picture tell your story.
Then Saturday night the 50th annual Awards ceremony will recognize
those who are setting our standards and culminate with a Lifetime
Achievement award for veteran newsman Hal Fishman.
Add all that in with a chance to network with the hardest working folks in
Broadcast Journalism and you have a formula you won't want to miss. To
make reservations go to www.aptra.org

About the Author
Gary Daigneault is the Program/News Director of KCDZ Radio
107.7 FM, in Joshua Tree, California. He's the current President of the
Associated Press Television and Radio Assn. for California and Nevada. Gary's
also very active in Joshua Tree where he serves as Chairman of the Joshua
Tree National Park Commission. He's also an Asst. Governor and Public
Relations Chair for Rotary District 5330.