The Real Story
By Ron Fineman

TV critic Ron Fineman has created quite a stir among LA broadcasters. He's got people mad at him and one LA TV station has even boycotted his website. Nonetheless, he gets about 8000 hits a week. Who is he? What's his background? Why does he think he's qualified to do what he does? We asked the man behind RonFineman.com to share his feelings. So, in his own words, here's Ron...

It can be painful to watch local television news. It has some much potential, but yet it is caught in sensationalism, questionable reporting, poor writing and you name it.

When I started critiquing LA TV news two years ago, I had no idea how it would be received. I'm pleased to say I get a lot of support from members of the TV community. Some go on the record in OTR, while others like to keep it confidential. Some TV news folk tell me that I do make a difference. Sometimes it is anchors who double check to rid their scripts of broadcasteze. Other times, I'm told people are more careful about how they do their job, just to avoid appearing in my column. That is very likely the exception, otherwise I'd have a lot less to write about. People tell me I'm filling a niche. If I don't take TV people to task on a regular basis, who will? People sometimes ask me how much time I spend on OTR. I probably spend around 13 hours each week putting together the three editions, not counting the time I spend actually watching the news.

I think my column may give the false impression that all I do is watch TV news. Since I do try to watch some of every station, it might seem as if I'm watching everyone everyday, which is certainly not the case. I'll usually tape someone's 10pm and someone's 11pm a couple of days a week; otherwise I just write about whatever I can catch live.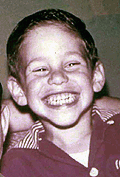 Young Ron Fineman

I take notes of course, and without that note pad, I'd be in trouble. As it happens I accidentally left my note pad at my girlfriend's house last week, after I left for Bakersfield. (I divide my time between both cities). Amazingly she was able to read enough of my handwriting over the phone, so that I wasn't left up news critic creek without a paddle. Believe me, my handwriting can be so bad, sometimes I can't read it.

So, you may ask, what qualifies me to be a TV news critic? Well, everyone is a critic. The credibility I have comes from all of those who read my web site-which includes people both in the media and out-who tell me they like what I do and they agree with much of what I have to say.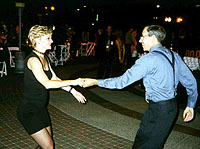 Ron and Christy Knorr doing the East Coast Swing at Ron's 30th high school reunion last year

I spent 12 years in Bakersfield television, as a reporter, a producer and a news director. So I know how difficult it can be to use video in telling a story, I know what it is like to put together a newscast, and I know what it is like to run a news room, albeit it a small one (I think had about 30 people on my staff). When I was a reporter, I organized to bring a union to the newsroom. It really divided the staff, which gave me the experience of being respected and disliked at the same time. Great preparation for OTR! I do like to have fun on my web site. That's why I write about commercials which annoy me, occasionally reference old sitcoms, and also deal with social and political issues. I'm not a one-trick pony. However, I know the core of what I do is news criticism, and I take the responsibility seriously.

Since KCAL suddenly banned access to my web site (and others, I'm told) at the same time I was printing some unflattering comments about a member of their management, I guess it is fair to say that others take my site seriously too. Ironically, the buzz created by the ban could only help spread the word about the web site. A little more than a year ago, I added Inside LA TV to my web site. That is the part of the site where I ask newsroom insiders to tell me what is going on where they work. It has given me some good scoops, and it has also allowed some to take shots at others anonymously.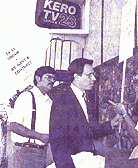 Ron leading an informational picket against his old TV station, KERO in Bakersfield, back in 1989


I know that bothers some readers, but without that sort of protection, how many people would speak up at all? I would never knowingly print anything false, but obviously some things may slip by. The best example of that was a recent letter sent to me from Dilva Henry's email address at KCAL. It turned out to be a fake. Another time, someone told me that a part time anchor at one of the stations got a job through nepotism. That is something I would not print without checking it out. Turns out the tip was a lie, and the 'story' never saw the light of day. That tipster sent something else which I checked out and found to be untrue, so I realize there are some who will purposely try to use OTR to spread false information. Fortunately, that is very much the exception. Someone recently told me that they assumed that page is what brings most readers to OTR. But the reality is, the main page has the most hits, followed by the Letters Page (about 50 percent of the main page), and then ILATV (which has about 40 percent of the main page).

For those who may be curious about my personal life, or wonder if I have one, I do. I have a grown son who I raised as a single parent, and I have a girlfriend who not only is able to decipher my handwriting, but also goes out swing dancing with me from time to time. We're just beginners, but we do have fun!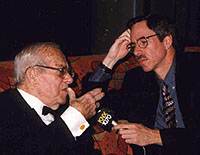 Ron interviewing California Supreme Court Justice Stanley Mosk last year

In closing, I hope that some day, those who own LA TV stations will take a good look at their news product, and realize how standards of good journalism have fallen so far, and what little respect they're showing for viewers. Certainly some are better than others are, but I believe everyone still has a long way to go. I plan to keep my eye on local news, and I hope OTR can continue to grow, and be a positive factor toward encouraging local newscasts we could all be proud of. I don't hold out much hope in the near future, but I'll keep plugging away, continuing to call 'em as I see 'em.