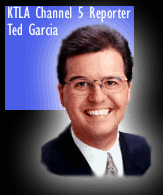 The Robert Blake Saga
By Ted Garcia

"What's new on the Robert Blake case?"...
"Do you think Blake did it?"...
"Why are you guys STILL in front of his house?"

These are just a few of the questions I (along with my colleagues) have been peppered with over the past two weeks. Everyone has an opinion... like it or not.


Ever since Blake's wife, Bonny Lee Bakley, was shot to death on the night of May 4 in Studio City, we the media have been scraping for any tidbit of information that comes along. Nothing new... I know, but this case seems to be following a pattern ... you know where I'm going -- yup, O.J.



How cool is this? KCDZ's Gary Daigneault gets a pretty neat honor! Who
wouldn't like to be called A BIG KID :)
Two families at odds, a "dream team" of attorneys, people with sordid pasts, etc. In the L.A. market, if it involves a celebrity, even a very, very B-list celebrity like Robert Blake, it sells. As long as we have "Baretta" clips, we can do a package. As long as Harland Braun (Blake's attorney) has a theory or uses the victim as a punching bag, we have a lead.

Much has been said about the victim's past. She ran a "lonley hearts" club... she bilked men out of money... she stalked people like Blake, Christian Brando and Elvis... she was a woman who wanted to be a star... and if she couldn't be one, she wanted to get close to one. But is it our job to pass judgment on this woman we've never met... never talked to???

Ask Mr. Braun and he'll say "yes"... details of her life are important because there are many people out there who "have it in for her". Ask viewers and chances are they'll say, "you know what guys, you really ought to back off". In fact, many people in the KTLA newsroom feel the same way. Let this woman rest in peace. But as long as Bonny Lee Bakley's name is attached to that former TV star, she will not.

This is indeed a difficult case to cover because not only are we competing with other local stations, but national and tabloid shows as well. People like Blake's son, Blake's bodyguard and Bakley's half-brother are popping up on shows like "Today", "GMA", "Larry King Live" and "Inside Edition", but they're avoiding us like the plague. Why? Maybe it's the free limo ride to the studio, maybe they're being compensated or maybe they (and their attorneys) feel this is the only way to remain in control. One interviewer -- one question at a time -- not a hoard of local reporters asking some tough questions.

The only real statements coming out are from Blake's attorney... so how balanced are our stories? Even the LAPD held a rare news conference to tell the media to stop spreading rumors... but that same night, almost every station reported the fact that detectives may or may not have found the murder weapon. So much for taking their advice.

Until Mr. Blake talks or until an arrest is made, this story will continue to slip further into the A-Block on most stations. If this were any other homicide, we would've forgotten about it long ago. But we the media have turned it into something more... like it or not. As for how long we'll be in front of Blake's Studio City home -- I wish I could tell you.
In the meantime, leave the porch light on... it's getting dark out there.


About the Author
TED GARCIA is a general assignment reporter for KTLA/Channel 5, the WB station in Los Angeles. He has reported and anchored for 10 years in Texas, Oklahoma, San Diego and now Los Angeles.