REMEMBERING LARRY GREENE


NOTE FROM HAL: I want to express how badly I feel about the death of KCBS Photographer Larry Greene. Larry was one of my "field friends." From time to time over the past 20 years we'd see each other out on a story . Nice, helpful, funny, sincere -- a terrific shooter, a great guy and a real pro! Our condolences to Larry's wife, 2 children, colleagues and friends.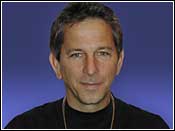 Larry died in a helicopter accident Friday September 6th, in the Middle East while on assignment. According to cbs2.com the chopper "crashed as it was hovering over a Syrian freighter. Greene, 50, a KCBS cameraman for 24 years, was aboard a Navy SH-60B Seahawk helicopter when a rotor blade accidentally hit the mast of the ship, sending the helicopter into the ocean, 80 miles off the Iranian coast, according to Brig. Gen. John Rosa, the deputy operations director for the Joint Chiefs of Staff." Four sailors were injured. The cause is under investigation.
Greene and KCBS Investigative Reporter Randy Paige were in the region covering U.S. servicemen serving in the Middle East. Paige was on a guided missile cruiser some 200 yards away from the Syrian vessel at time of the crash.
What follows are several thoughts from people who, over the years worked with or knew Larry.
**********
It is still hard a week later to comprehend the loss of KCBS
Cameraman Larry Greene. I first met Larry when I started in the field as
a reporter for KLAC in 1978 and he had just begun working for KCBS at
that time. His enthusiasm for covering news was as infectious as his
sense of humor and you could always count on experiencing both any time
that you ran into him in the field. Being counted as one of his friends
provided both a sense of enjoyment and satisfaction...a sense that you
as a person and a journalist were judged to have (with apologies to Tom
Wolfe) "the right stuff".
This was a man who seemed to have a 6th sense about news in
Los Angeles...where and when it was happening...and how best to cover
it. Even when Larry beat you to the scene (which was more often than you
would want to admit) you could still take comfort in the fact that if
you were where he was, you knew that you were in the right place where
all the action would happen. That uncanny sense was also exhibited even
when the story turned mobile or "tactical". I never saw Larry Greene out
of position regardless of how many cameras were crowded and moving
backward in a hallway or a sidewalk, never saw him in a situation where
he couldn't get and deliver the key shot that infused any story, big or
small, with a compelling image that no viewer could ignore..and was
always amazed that in the middle of a dangerous situation he maintained
that critical balance between journalistic commitment and self preservation.
Larry was proud of his work and skills...but was also just as
quick to give praise to the efforts of other cameramen or reporters.
Hearing from Larry that he relied on you for information....or that you
did a "great job"...was one of the highest compliments you could recieve
in the LA news community. With his death we are all very much
diminished..for we have lost an intelligent,impassioned,compassionate
man.....a friend....and a "shooter"...in the finest television news
tradition.
Pete Demetriou
Reporter
KFWB NEWS 980
Los Angeles, Ca.
**********
Award winning photojournalist Larry Greene was killed in a Navy helicopter crash in the Persian Gulf. Greene was on Special Assignment Sept. 6th, flying above a Syrian flagged tanker when the rotor of the SH-60B Naval Helicopter, clipped the mast of the ship and crashed. He was 50 years old.
To most of the world, that paragraph would be a footnote in the day's news. To me, it's a giant's foot that has crushed out a beautiful part of my life. And to all of you who knew him, who called him friend, called him when you needed help, or you needed his truck, or you needed a job, I know that giant foot just crushed you too.
His journalistic abilities can be cataloged in the many awards this organiazation and others have bestowed upon him. It's fair to say he won every award in the business: from the duPont to the Murrow, from Breaking News to Best Documentary. But what he did best was make everyone around him better. The crappiest reporter in the business would come away from a shoot with Larry looking like Mike Wallace. It's why we fought over him. He made me look better, write better, produce better....hell, half the time he was the producer. I just carried the sticks.
In the coming days a lot of you who never met Larry will be hearing stories about him, and you'll wonder if he really was all they say. Take it from one who knew him well, he was the best. And his loss will be as big a loss to you, those who didn't know him, as it is to those of us who did. Because if you knew him, you loved him. And if you didn't know him, you lost out on the opportunity to meet possibly the most wonderful freind you could ever meet in a lifetime.
The loss of Larry Greene will forever be a void in all our lives. Please remember him by filling that void with a handshake at a news conference, by moving over an inch so a late arriving photographer can get a shot, or by handing a spare battery to someone who's warning light just turned on. He did this and so much more for all of you. Please keep his spirit and his love alive by doing it for each other.
Drew Griffin
KCBS-TV Anchor/Investigative Reporter
Los Angeles, Ca.
**********
Over the years I've worked with a lot of great photographers and without reservation I have to say that Larry Green was the very best. He was a great shooter -- there are lot of them out there -- but more than that Larry was a first class journalist -- a throwback to the early days of television news when photogs were expected to be reporters and bring back all the facts as well as the pictures. I worked with Larry on a lot of stories and he always kept entertained me -- but we never missed an angle on a story. He took great pride in his work and the stories I did with him and Drew Griffin were largely built on his efforts. He was particularly proud of our series "Friendly Fallout" detailing the radioactive exposure from the rocketdyne plant in Santa Susana. He never became discouraged by low ratings or the myth of the "Indian burial ground" at Channel 2. I'll always remember Larry with love and affection because he made me laugh. he made me cry and he made me a better newsman.
Pete Noyes
KCOP TV Assignment Manager
Fomerly with KCBS
Los Angeles, Ca.
**********
If Larry Greene was on a story, it was THE story. Larry would always get
assigned to the breakers, the top sweeps series, or the most challenging
interviews to get. His work defined excellence. He never missed. At KCBS,
where we worked together, his dedication and "cool under fire" attitude
defined what a professional is all about. He had enormous respect among his
peers.
Larry would always just know where the action was. He had a journalist's
instincts. He was all about getting the job done and done well. Larry was
my neighbor. My walking partner and I walked down his street almost
everyday. I am greatly saddened to lose a colleague and neighbor in such a
tragic accident. Larry died trying to bring us the story, in the line of
duty and his professionalism will be his legacy.
Jackie Zabel
Former KCBS News Writer/Producer
Los Angeles, Ca.
**************************