The Society of Professional Journalists has long been in the business of
promoting high ethical standards! In fact, in January 2001, SPJ's Chicago
Headline Club chapter and Loyola University Chicago started it's Ethics
AdviceLine for Journalists!
Provided as a public service at nocharge, it's a great resource for any of us in the news business. It's really very simple. You just call 312/409-3334
-- identify yourself -- state your question -- leave a call back number and wait for your answer. Most questions will be answered within 24 hours by a person trained in journalism ethics at Loyola University Chicago.
For more information you can visit www.ethicsadvicelineforjournalists.org,
but it isn't the organization's only ethics program. This week, SPJ Ethics
Committee Chairman Gary Hill tells us about the Society's ETHICS HOTLINE.

WHAT TO DO WHEN YOU'RE NOT SURE WHAT TO DO
By Gary Hill
SPJ Ethics Committee Chairman
Struggling with a dilemma on deadline, or just want to discuss a tough call you've had to make?
The Society of Professional Journalists sponsors an Ethics Hotline where you can call with your questions or concerns. Simply make the call, leave a message, and a member of SPJ's Ethics Committee will soon be in touch. The group doesnít promise a quick fix to any problem, but committee members will listen carefully and coach Hotline callers using principles outlined in SPJ 's
Code of Ethics (available online at http://www.spj.org/ethics_code.asp).
To reach the Hotline, dial 317/927-8000 ext. 208, or simply ask the receptionist for the Ethics Hotline. You can also send e-mail messages to ethics@spj.org. The Hotline and the e-mail are monitored by SPJ staff members, and requests are directed to appropriate committee members. Requests for confidentiality will be honored.
The Society of Professional Journalists works to ensure that journalists perform their work while adhering to the highest standards of behavior and decision-making. SPJ's first Code of Ethics was adopted in 1926. Over the years, that code has been revised and reworked. Today's code instructs journalists to seek truth and report it, minimize harm, act independently and be accountable. SPJ's goal is not to provide all of the answers or settle all of the disputes but to help equip journalists to make clear defensibledecisions.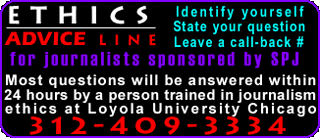 In addition to the peer hotline, SPJ plans national and local ethics discussions, sponsors an awards program, and dedicates an issue of Quill magazine to a discussion of ethical issues and dilemmas.
For more information about SPJ or its Code of Ethics, log on to www.spj.org, e-mail spj@spj.org or call 317/927-8000.

About the Author

Gary Hill is chairman of the Society of Professional Journalists Ethics
Committee and is director of investigations for KSTP-TV in Minneapolis,
Minn. Reach him at ghill@kstp.com