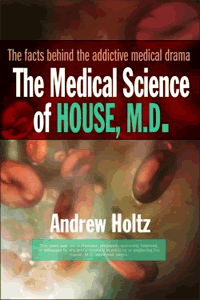 Writing A Book
A TV Reporter's Tale
By Andrew Holtz

I'll keep this short.
That's what broadcasters do. Every word, every second is precious. So it's natural for us to dream of breaking free of those constraints.
Be careful what you wish for.
Last fall, I was asked whether I would be interested in writing a book about the medicine depicted on the hit TV show "House." Sure, I quickly replied. Though I'd never written a book, I've been writing for a living for decades… and when I was Medical Correspondent at CNN, I did stories on the medical accuracy of various TV shows and movies.
I knew that cranking out "The Medical Science of House, M.D." would be hard work… but a career in broadcasting did not prepare me for the mass production of words the assignment required. I'm used to shaving words… not piling them on. I soon felt like a designer of super-light racing bicycles suddenly confronted with the job of building a monster truck. Sure, they both have wheels, but little else in common.
Actually, the book project started with a familiar research routine. I watched and logged every episode of the House series… looking for good anecdotes and cases… and then searched through the medial literature for the documentation and experts I'd need.
I started writing. The words came by the hundreds. Plenty… indeed too many… for TV stories. But I needed thousands… upon thousands. The assignment called for 70,000 words… at least.
A few weeks before my deadline… the mountain of un-written words towered menacingly. I began to fear I might not make it. Even a thousand words a day wouldn't be enough. I had to write faster… and faster. Crafting and winnowing the text were not priorities. While trying to write well, I recognized that volume had become king.
Two weeks before the deadline… I asked for and received a reprieve: two more weeks. If I wrote 1300 words a day, seven days a week, I could make it. Some days went better than others. I fell a bit behind the curve… and the average daily word count needed to make my deadline rose to 1700.
I had some good days, once cranking out more than 2400 words. Imagine, writing 2400 words in a single day, about 10 times what I'd write for a TV story. I'd transformed from a sprinter into a marathoner.
And then… it was done. Just before the deadline, I sent my editor the manuscript for "The Medical Science of House, M.D." containing 72-thousand… and one… words.
The book, all 272 pages of it, will be on bookshelves in October.
So will this old TV guy take another turn holding a fire hose spewing thousands of words into the hungry maw of a book assignment? Oh, probably. A book is nice to hold… and the pain of writing fades.
But while a book has ample bulk for a thorough examination of a broad topic, there are so many words that one more or less simply doesn't matter. I still love the clarity and precision of a tightly-written TV piece. Each word counts and there's never a second to waste.
About the Author
Former CNN Medical Correspondent Andrew Holtz is an independent journalist covering health and medicine from Portland, Oregon. He is a Board Member of the Association of Health Care Journalists, www.healthjournalism.org. Holtz was AHCJ President from 2000 to 2004 and served as Interim Executive Director from 2004 to 2005.
His new book, "The Medical Science of House, M.D." will be published in Oct. 2006.
He has contributed articles on policy issues affecting health and health care to Oncology Times. He authored a new introduction for the re-issue of "How to Live 365
Days a Year," a classic health advice bestseller that popularized concepts of mind-body connections in health.
Holtz hosted and co-produced Taking the Pulse, a pilot series of health policy programs on Oregon Public Broadcasting. He also hosted HoltzReport: Battle for Cancer for the Fuji TV network in Japan. He was Tobacco Issues Editor for InTouch magazine. His work has also appeared on the PBS television program HealthWeek, Medical Detectives on TLC and websites including Reuters Health.
You can get more information on Andrew and his book at www.holtzreport.com