LA CityView 35
No Non-Sense Television
By Tony Ighani

For over 10 years, a little cable station has quietly been creating and fulfilling a powerful niche in the LA local television scene.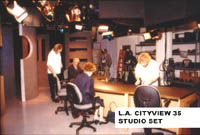 And, more and more people are stopping the remote control on LA CityView Channel 35 and taking notice. For example in recent weeks, the eyes of Los Angeles turned to LA CityView 35 to witness the City's Chief of Police, Bernard Parks, make a last plea to the City Council for another term. Chief Parks did not succeed, but the viewers got a chance to see his entire speech and the comments of his supporters and opponents, gavel-to gavel, commercial free and uninterrupted. LA CityView 35 maybe a new and viable programming option for some, but for many City Hall observers, community leaders and civic-minded members of the public, it's been the only source of current and complete news and information about City Hall, elected officials, and other City-related activities.


LA CityView 35, available through out the City as part of basic cable television service, reaches a potential of 600,000 households and has been bringing to the LA residents quality local programming since November of 1989. That is when the very first live broadcast of the Los Angeles City Council took place. Since that time, the Station has provided live and repeat coverage of not only Council meetings but many other public hearings and proceedings, gavel-to-gavel. Public service shows combined with cultural and informational programming is what LA CityView 35 does best. After more than 20 Local Emmy nominations and six wins, and over 150 other local and national awards, LA CityView 35 has become a leader in the industry among the government-run stations in the entire nation.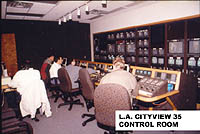 LA CityView 35 is described as a perfect combination of a local C-SPAN and PBS station, due to the fact that original magazine and documentary shows are augmented by many public meetings that are only available on Channel 35 to Los Angeles residents. The Station also began streaming live on Internet last year which allows non-cable subscribers have access to the important information about their local government. The Station runs with a small group of full-time TV professionals who are responsible for about 15 hours of original programming each week. In recent months the Station has expanded its programming efforts to include weekly shows such as Your Council District Close-up, hosted by Phil Shuman.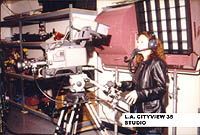 This is a half-hour lively discussion with each of the City's 15th Council members. Another successful show titled LA This Week, now in its second year, is a weekly magazine show hosted by Gail Choice and field reporters, who are out and about Los Angeles covering stories unique to our City government and people.Much more programming is in development and will be premiering in the near future. We're also expanding our internship program that promises to be one of the most sought-after programs of its kind.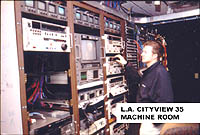 Stay tuned for more information. For programming information and other questions, call the LA CityView Viewer Hotline at 213-473-3978, or check out the Station on the Internet at www.lacity.org and follow the links to the live broadcast.




About the Author

Tony Ighani, the Station Manager, has been leading LA CityView 35 for the past eight years and has been the source of much of the innovation in the new programming on Channel 35. A four-time Local Emmy winner, Ighani is first and foremost a believer in local television that serves the community in an unvarnished manner, and that television is to be a source of enrichment of lives not just profits. That is why he has dedicated his career of 20 years in television to non-profit, non-commercial, and no non-sense programming.