From the Field


Last year, Captain Brian Jordan from the LA County Fire Department shared some of his thoughts on PIOs and how they can help news reporters. With brush fires in some communities and summer drownings once again making the news, we thought it was a good idea to revisit Brian's article.

PIO's - What we are and what we can do for you, the reporter!
By Captain Brian Jordan

What We Do
The Public Information Officer, also known as the "PIO", has duties and responsibilities very similar to the role of the Assignment Editor. Though there is no rule book to guide us through these duties and responsibilities, we must perform at a minimum of 100 percent 100 percent of the time.

This is why we apply for this position; we like it! The PIO has a very interesting task; keeping the media pleased as well as our boss.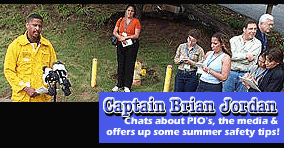 At first, this may seem very simple however; we must look further into what it takes to attempt to please everyone we work with. Once the PIO places their self in the position of the media and thinks like their boss, the PIO has a better understanding of how to perform.

We understand the story must get to the public and our avenue is the media. It is our job to provide a timely and accurate release of information to the media.

Who's Who

The County of Los Angeles Fire Department's Public Information Office is staffed with seven sworn personnel who function as PIO's. Three of the seven personnel also function as Public Education Inspectors. The staffing consists of one Captain (the Department PIO) and six Inspectors (Assistant PIO's). During large-scale emergencies, we have the ability to draw from over ten additional PIO's from our fire stations. We work a 40 hour week and are assigned after-hours on-call duty.

Our 24-hour media number, (323) 881-2413, has recently been upgraded from three to seven incoming telephone lines and after 5:00 P.M. the number is transferred to our dispatch center. When there are multiple media calls after hours dispatch becomes swamped and normally will notify the Duty PIO to intervene.

Though our primary media line is (323) 881-2413, our back-up media line is the cellular telephone number of the Department's Public Information Officer, Captain Brian Jordan, (323) 855-0117 [don't worry about the bill, incoming is free].

Yes, this can become busy and that is why we PIO's are here. The back-up number has been established because of the seven incoming lines the media has access to during business hours, only one line is provided for the media on the dispatch floor.

Providing a number where the media can reach a Department spokesperson 24 hours a day is part of fulfilling our Department's mission statement, in which one statement includes, "our national reputation and hometown attentiveness." In addition to cellular phone access, the PIO's pager number is also provided.

Our motto is "the media's schedule is our schedule." Upon arrival to an incident, the PIO will obtain as much information as possible from the IC (Incident Commander), bystanders, and - believe it or not - the media. After we put this information in an orderly fashion we provide as many interviews as the media requests. The County of Los Angeles Fire Department PIO's tend to cater to the media. We will get cameras as close to the incident as possible, obtain as much information as possible and sometimes have the media attend planning meetings during large-scale incidents. There are times where we may be very restricting on what information we release. This is normally due to the nature of the story. Information for any story caused by an intentional violent act is categorized as a "Sensitive Issue (SI)". SI's are handled by the Department PIO, Captain Brian Jordan. This procedure was established to ensure strict confidentiality for firefighting and law enforcement personnel and the protection of victims of violent crimes.

I have been the Department PIO since May 2000 and have enjoyed everyday of work. Though the Los Angeles media is very challenging (I discovered this on a few SI's), they are very fun to work with. Several people have their own opinions about "the media". I have learned that people who work in the media are just like everyone else in the world - they have a job to do and want to do it well. We have to assist the media in doing their job and your County of Los Angeles Fire Department PIO's will put forth an effort of 100 percent. I've learned a great deal from the media and look forward to learning more about television, radio and the press.

Months ago, I told Hal Eisner that I would write an article for the web site. Well, as I mentioned earlier, the PIO is like the Assignment Editor, hence, the word 'busy' has been on my calendar practically everyday.

I will conclude with a few safety messages:
WATCH: Water Awareness Training for Children in the Home · No one should swim alone; have a "water buddy"
· Children must be watched
· You cannot take your eyes off swimmers for even one second
· If you have to answer the telephone phone, make sure you have a cordless telephone
· When you answer the phone, keep your eyes on children CPR Saves Lives
· Learn CPR; classes range from 4 to 8 hours and it's worth the low price
· "If you have children and do not know CPR you are making a big mistake" Wildland Fire Safety
· Clear the brush from around your home for a distance of 30 to 200 feet o High hazard brush areas require 200 feet of clearance
· Never throw cigarettes or matches out of your car window · Fire burns uphill 16 times faster than normal.
AND PLEASE!!! When you're doing a story on a Wildland fire watch the wind, your location and anticipate the direction the fire will travel
· Stay hydrated while covering Wildland fires; you do not want to go from being a reporter to being a victim.

About the Author
CAPTAIN BRIAN JORDAN has been a sworn employee of Los Angeles County Fire Department Department for 15 years, he began his work with the fire department when he became a fire explorer at age 14. Prior to this, he had been visiting the fire station near his house since he was 5 years old; his kindergarten class was across the street from a fire station. He has held the ranks of Firefighter, Firefighter/Paramedic, Apparatus Engineer, Inspector, and currently holds the rank of Captain. He's been assigned to fire stations in Calabasas, Carson, Lakewood, Altadena, Newhall, West Hollywood, La Canada, Hawthorne and the Community Relations Unit at headquarters in East Los Angeles. He is the Assistant Director of the United Peace Officer's Against Crime (UPAC) Camp program; every year the organization takes over 250 youths camping in the San Bernardino Mountains [hey, sounds like a great story...hint hint....]. He dedicates his time to improving media relations, and was also a staffer/mentor at the 2000 APTRA Academy for Aspiring Journalists. He can reached at all times.....and through email too at bjordan@lacofd.org