MY SALUTE TO THE SYMPHONY
BY HARRY KOOPERSTEIN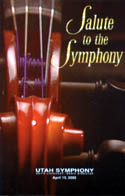 "SALUTE TO THE SYMPHONY" HAS BECOME AN ANNUAL EVENT THAT BEGAN FOUR YEARS AGO. IT HAS ALSO BECOME A TRADITIONAL EVENT FOR THE UTAH SYMPHONY, BRINGING THE ARTISTRY OF THE UTAH SYMPHONY TO AUDIENCES THROUGHOUT THE INTERMOUNTAIN WEST, WHICH INCLUDES UTAH, ARIZONA, WYOMING, NEVADA, TEXAS AS WELL AS PARTS OF CALIFORNIA.
BEING INVOLVED WITH THIS PROJECT AS PRODUCER/DIRECTOR IS QUITE A CHALLENGE DUE TO THE FACT THAT THE CONCERT PORTION OF THIS SPECIAL IS REHEARSED AND SHOT IN ONE FULL DAY..THE AUDIENCE IS INVITED TO SALT LAKE'S BEAUTIFUL ABRAVANEL HALL, KNOWING THAT THEY ARE THERE TO BE PART OF A TELEVISION TAPING THAT WILL BE AIRED AT A LATER DATE -- AND -- THEY LOVE IT. THE CONCERT IS LINE CUT WITH NINE CAMERAS AS THOUGH IT WERE LIVE.THE HOST'S OPENING, INTROS AND THE SHOW'S CLOSING IS TAPED IN FRONT OF THE AUDIENCE, FOLLOWED BY ALL OF THE ORCHESTRAL PERFORMANCES.
IT TAKES A GROUP OF DEDICATED AND TALENTED PEOPLE TO
PULL OFF SUCH AN EVENT. I BECAME INVOLVED WITH THIS
DUE TO MY THIRTEEN YEARS OF PRODUCING AND DIRECTING AN
ANNUAL BROADCAST FOR LOS ANGELES STATION, KCOP
TITLED "LIVE FROM THE HOLLYWOOD BOWL." THIS
ANNUAL EMMY AWARD WINNING PROGRAM WAS AS THE TITLE
STATED "LIVE." ITALSO UTILIZED NINE CAMERAS. BEING A
LIVE MULTIPLE CAMERA DIRECTOR WITH AN EXTENSIVE
BACKGROUND IN MUSIC, MADE THEN GENERAL MANAGER, RICK
FELDMAN CHOOSE ME TO BECOME INVOLVED IN THIS PROJECT.
RICK'S CONCEPTION OF THIS PRODUCTION MADE IT A FIRST
IN OUR MARKET DUE TO THE FACT THAT THERE HAD NEVER
BEEN A COMPLETE CONCERT BROADCAST LIVE FROM THE BOWL.
IT, ALSO, GAVE ME THE CHANCE TO BECOME INVOLVED WITH A
NUMBER OF EXTREMELY TALENTED INDIVIDUALS BEHIND AND
IN FRONT OF THE CAMERAS TO HELP ME PULL OFF SUCH A
CHALLENGING EXPERIENCE. THIS SUCCESSFUL 13 YEAR
PROJECT ALSO GAVE US A WONDERFUL COMRADERY BETWEEN
KCOP AND THE HOLLYWOOD BOWL STAFF. I TOOK THIS
EXPERIENCE WITH ME FOUR YEARS AGO AFTER BEING CHOSEN
AS THE PRODUCER AND DIRECTOR OF "SALUTE TO THE
SYMPHONY" -- A NEW CO-VENTURE BETWEEN TELEVISION STATION
KTVX AND THE UTAH SYMPHONY ORCHESTRA IN SALT LAKE
CITY. MY INITIAL MEETING WITH THE STAFF AND
MANAGEMENT OF BOTH GROUPS WAS A WONDERFUL EXPERIENCE.
THEY WERE A GROUP OF PROFESSIONALS WHO WANTED TO MAKE
THIS PROJECT A SUCCESS. KTVX HAD NEVER DONE A MUSIC
SPECIAL, LET ALONE, A SYMPHONY. THEIR SPECIALTY WAS
LIVE SPORTS. I WAS INTRODUCED TO THEIR TOP PRODUCTION
PEOPLE WHO LAUGHINGLY SAID THAT THEY DIDN'T KNOW THE
DIFFERENCE BETWEEN A FRENCH HORN OR A TRUCK HORN. I
WAS ALSO GIVEN THE PERMISSION THE BRING IN SOME OF MY
PRODUCTION PEOPLE FOR LOS ANGELES TO HELP INITIATE THE
PROJECT -- THERE WAS NO PROBLEM -- NO EGOS.
THE FIRST YEAR WAS A GREAT SUCCESS AND, EACH YEAR
GETS BETTER AND BETTER. THE SECOND YEAR OF "SALUTE
TO THE SYMPHONY" WAS AWARDED AN EMMY AT THE ROCKY
MOUNTAIN SOUTHWEST EMMY AWARD CEREMONY IN SCOTTSDALE
ARIZONA LAST JUNE AND, AS OF THIS WRITING, I HAVE
JUST RECEIVED A DIRECTING NOMINATION FOR LAST YEAR'S
PROGRAM. THE AWARDS CEREMONY WILL BE HELD IN
SCOTTSDALE ARIZONA ON JUNE 29TH OF THIS YEAR.
AGAIN, THE SUCCESS OF THE PAST FOUR YEARS, ALONG WITH
THE HOLLYWOOD BOWL'S 13 YEARS OF BROADCASTS ARE DUE
TO A GROUP OF DEDICATED AND TALENTED INDIVIDUALS WHO
LOVE WHAT THEY DO AND I SALUTE THEM.
HARRY KOOPERSTEIN IS AN EMMY AWARD WINNING PRODUCER/
DIRECTOR WHO HAS BEEN HONORED NUMEROUS TIME FOR HIS
WORK INCLUDING EMMYS FOR PRODUCING AND DIRECTING 13
YEARS OF THE ANNUAL PRODUCTION "LIVE FROM THE
HOLLYWOOD BOWL." HE WILL BE RETURNING FOR HIS 6TH
CONSECUTIVE YEAR AS THE DIRECTOR OF THE UPCOMING 54TH
ANNUAL LOS ANGELES AREA EMMY AWARDS, AND IS CURRENTLY
FINISHING HIS SECOND TERM AS A MEMBER OF THE BOARD OF
GOVERNORS FOR THE ACADEMY OF TELEVISION ARTS AND
SCIENCES.