Racing Ahead
By Brooke Landau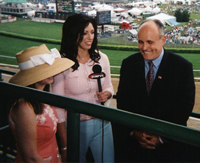 It's been a Smarty Party ever since racehorse Smarty Jones captured the 130th Kentucky Derby and followed with the second jewel of the Triple Crown at the Preakness. And I was there for all of the action as ESPN's Feature Reporter. My greatest challenge as a journalist was to make the immediate mental transition from coverage of the chaos in the infield to high-end interviews with celebrities and VIPs including: Rudy Giuliani, Maryland's Governor Ehrlich, horse owner Michael Tabor, Troy Aikman, Eli Manning, Carson Daily, Nick Lachey, Jerry O'Connell, and more.
But there was even more on my mind. As the rain poured down creating one of the gloomiest Kentucky Derby scenes in decades, I stood on Millionaire's Row of the historic Churchill Downs, put in my IFB, and had to pause a moment to consider how I had gotten there.
It may be hard for some to imagine while looking at my 6-foot stature, but it was just a year and a half ago that a doctor told me I'd never again work another 8-hour day. That after I survived one of the most extraordinary battles with Lyme Disease in medical literature. On September 25, 1995 I went to bed fine and woke up unable to walk or move my head. I spent the next 1-½ years bed-ridden while plagued by horrifying symptoms that persisted for 7 years - Spinal Meningitis, short-term memory loss, visual deterioration, hearing loss, debilitating headaches, and numerous surgeries. But it was my determination that led me to a cure and literally saved my life.
In fact, against doctors' recommendations, in the final year of this saga my determination landed me an anchor/reporter position at a small market news station in AZ where I was sure my experience would bring out my unique approach to a story. Not long after, I was approached by ESPN and offered the opportunity to join their horseracing team coverage.
When I consider Smarty Jones's arduous road to winnings, I can't help but notice the parallel. He is a colt whose path has been lined with challenge, tragedy, hope and ultimately triumph. Not all that different from mine. When my producer at the Preakness asked, "Are you sure you're not scared to go into the infield with all of the chaos?" I thought to myself, "I've already overcome the worst that could ever happen to me. I'm afraid of nothing."



Brooke Landau is an award winning news journalist with anchoring, reporting, producing, and hosting experience in medical/consumer health, court/crime, political, military, entertainment and sports. In 2002, Brooke pitched and co-developed a medical story to Fox 11 News in Los Angeles that landed the station an Emmy. With her keen sense for a compelling story and her on-camera presence, various news professionals encouraged her to pursue a broadcast news career. She began as G.A. Reporter for CBS's KSWT in Yuma, AZ and was promoted to co-anchor within a month. Most recently Brooke has been covering sports related news as part of ESPN's Triple Crown coverage. She also produces at E! Entertainment in Los Angeles.
To contact Brooke Landau: brookelandau@hotmail.com