THE BLAKE CASE
Covering Blake
By Eric Leonard
April 29, 2002

In a February interview with KFI, lawyer Cary Goldstein said LAPD detectives had interviewed two men who had allegedly been propositioned by Blake to carry out a 'hit' on Bakley. My sources declined to comment at all, which in and of itself suggested a tacit confirmation that the information was somewhat accurate. No other information surfaced in the case until last week.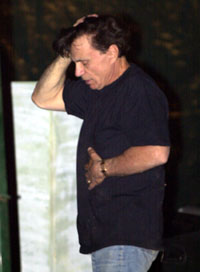 I received information mid-day Wednesday that an arrest was imminent and detectives from the LAPD's Detective Support Division had placed Robert Blake and Earle Caldwell under surveillance. I confirmed the information with a source close to the case who told me 'something' was going on. Later in the day I was invited into the Hidden Hills community and I observed undercover units watching Blake's home. I began a surveillance of the surveillance. Many of the police units were gone after dark and I left around 9 p.m., thinking the information about an imminent arrest was bad.


Thursday I was assigned to cover Cardinal Mahony's statement about changes in the way the Church would handle abuse allegations. Shortly after arriving at the new cathedral downtown, another source contacted me and told me an arrest would be made before dark.


I had been working with another well-sourced reporter (from a non-competing outlet) on elements of the Blake story, and we immediately began discussing what to do. The non-competing outlet sent a surveillance team of their own to Hidden Hills, and I began receiving reports on activity at the Blake home: Blake wasn't there.


After a brief discussion with KFI news director Chris Little I dropped the Mahony story and drove back out to Hidden Hills. I checked with Cary Goldstein who said he had heard from two sources an arrest would be forthcoming. I spotted undercover police at all Hidden Hills exits and was told Blake had just returned home. It was around 2:30 p.m.


Channel 2's helicopter arrived and began high-altitude orbits over Hidden Hills. Several thousand feet above Chopper 2, an LAPD 'Special Flights' surveillance helicopter cruised in wide circles. On the ground -- other media had gathered at the Hidden Hills main gate.


By 3:00 it was a circus outside the main gate. Two plainclothes LAPD detectives parked at the gate in a sports car tried to be inconspicuous but they were hard to miss. A few minutes earlier a source told me arrest warrants had been signed for Blake and Caldwell. We went on the air at 3:06 p.m. and revealed an arrest was imminent in the Blake case. I reported the LAPD had the actor under surveillance, and it appeared the police were preparing to make a move.


Blake's lawyer Harland Braun was contacted and he denied his client was about to be arrested.

Around 4 p.m. I again gained access to the Hidden Hills complex with the help of a cooperative resident. I spotted Blake sitting on his front porch with Caldwell and another man, and watched as his daughter Rose played with her babysitter in the backyard. Blake was talking on a cordless phone occasionally and pointing at the news helicopters. By this time, about half the local television stations had their ships over the scene.


I phoned in a report about what was going on at the Blake place around 4:30 -- not much. In my 5:00 news report, I suggested that the activity at the Blake place could be 'a whole lot of nothing.' My reporter friend and I speculated an arrest would be made on a Friday, not Thursday. We were wrong.


Shortly after 5 DSD detectives began gathering in the dirt parking lot of a greenery that's directly adjacent to the Hidden Hills main gate. Soon a half-dozen undercover cars with paper plates and blacked-out windows had maneuvered into the back of the dirt lot and the undercover detectives, some wearing uniform shirts from second-hand stores, began to put on their black bulletproof vests. I couldn't believe what I was seeing.


One of the surveillance cars pulled out on to the main road leading to the Hidden Hills gate. Two other detectives in the sports car badged the guard and zipped inside the complex. Back in the dirt lot, the remaining detectives lined their cars up, windows down, scoped AR-15 carbines at the ready. Their LAPD badge patches were clearly visible on their body armor.

It was about 5:30.

The surveillance team rolled towards the gate. A line of marked and unmarked police units pulled around the corner and fell into place. Detectives wore their blue LAPD raid jackets. A crime scene van was part ofthe caravan.


I called KFI's master control and told them to put me on the air, 'right now!' I gave a play-by-play as the cars waited at the gate, then rushed inside to Blake's home. Other detectives stayed out front and blocked the entrance to Hidden Hills. Moments later the undercovers packed up and drove out. Blake was in custody.

About the Author
Eric Leonard is a news reporter for KFI Radio in Los Angeles. He was also the founder of ETS -- Entertainment Television Services. Since the Bonny Lee Bakley murder May 4, 2001, Leonard and KFI have broken several Blake related stories including the actor's refurbishment of the 'Mata Hari Ranch' and his move to Hidden Hills.