June 27, 2005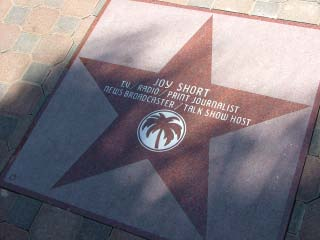 Palm Springs Broadcaster Honored
Joy Short, afternoon news anchor at KPSI and a member of the APTRA Board has been honored with the 255th star on the Palm Springs Walk of Stars.
Her star was unveiled in front of the Plaza Theater in Palm Springs. The Plaza Theater is the home of the Palm Springs Follies.
Short was honored for her longtime career in print (Los Angeles Times), radio and TV (her new Time-Warner cable show).
Short arrived by white limousine and was joined by her husband, Joe and son, Jay.