From the Field


Roxy Music: The flame still burns bright
A Review By Michael Wilk

Up close and personal with Roxy Music at Madison Square Garden

I have been a fan of Roxy Music for 26 years but, alas, never had the opportunity to see them perform, the band having disbanded some 18 years ago. However, for my pleasure in my present state, I had the opportunity to see this legendary, hard-to-pigeonhole band perform at the Theater at Madison Square Garden on Monday, July 23. Roxy Music made their entrance into the rock music scene in 1971, a somewhat fallow time. Glam Rock was a new thing at the time, but Roxy Music was something else.
Looking like escapees from a 1950s intergalactic high school dance, dressed in black leather, leopard print, gold lame and sequins, combined with very unusual and unorthodox musical arrangements and lyrics, they were eclectic, witty, and bizarre.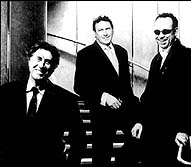 Roxy Music (L-R)
Bryan Ferry, Andy Mackay, Phil Manzanera


Phil Manzanera's masterful, exciting guitar , Andy Mackay's wailing sax and oboe, Paul Thompson's vigorous drumming, Brian Eno's way-out synthesizer and tapes, and, of course, Bryan Ferry's clever lyrics and matinee-idol crooning combined to make an indelible sound.

And their album covers! Gatefold album covers, adorned with 1940s-1950s style glamor girls, were real eye-candy-campy and even slightly strange. Roxy Music was essentially the brainchild of Bryan Ferry, a former art school student. The elegant Mr. Ferry, who always reminded me of a cross between a heterosexual Noel Coward and tragic romantic poet Ernest Dowson ("They are not long, the days of wine and roses"), combined with Dirk Bogardeish looks, wrote the group's songs, and oversaw the group's overall visual aethetic, which included their garb, album covers, and set designs when they performed.

Drawing from old movies, 1950s and 1960s pop music, fashion, art, along with a strong sense of "camp" and irony, Ferry composed witty, rocking, sentimental songs. RM's classic single, "Virginia Plain", debuted in 1972, following on the heels of their first album. "Virginia Plain" is a tribute to pop culture, with its references to Warhol starlet Baby Jane Holzer, drive-ins, Las Vegas casinos, drive-ins, and Studebakers. RM's second album, "For Your Pleasure", is, in my opinion, their best. From its film noirish album cover, featuring model Amanda Lear in a black leather dress and stiletto heels walking a black panther against a backdrop of a nighttime Las Vegas, to its songs, ranging from the irresistibly upbeat "Do The Strand" and "Editions of You" to the dark-themed "In Every Dream Home a Heartache", "The Bogus Man" (a play on The Boogie Man?) and the eerily disturbing "For Your Pleasure", it is an unforgettable album. Brian Eno left the band after "Pleasure", presumably due to artistic differences between him and Bryan Ferry.
RM's next two albums, "Stranded" and "Country Life", produced the hits "Street Life", "Out of The Blue", "Mother of Pearl", and "The Thrill of it All", continuing Ferry's vision of bittersweet love and pleasure-with-a-price. RM started to inch a little more towards mainstream, and became smoother and less esoteric.

In 1975, RM had a hit with the quasi-disco song "Love is the Drug" from their album "Siren", which featured that long-stemmed Yellow Rose of Texas Jerry Hall, then Ferry's girlfriend, on the album cover as a Lorelei, posed on the rocky coast of Scotland.

RM progressed through "Manifesto", a techno-pop themed album, and their last, "Avalon", is a velvet-smooth, dreamy, somewhat reggae-themed album. Bryan Ferry, Phil Manzanera, and Andy Mackay then pursued solo careers with reasonable success.

When the Roxy Music 2001 Reunion World Tour was announced, my partner David purchased tickets for us, and were we delighted! Mr. Ferry, who went through 3 costume changes (Black cire suit, signature white dinner jacket, and Elvis-like silver lame suit), was as charming and gracious as ever, never hogging the stage, giving the musicians their due. The musicians, which included original band members Manzanera, Mackay, and Thompson, as well as Roxy newcomers Colin Good on keyboards, Chris Spedding on guitar, Zev Katz on bass, Julia Thornton on percussion, Sarah Brown on backup vocals, and Lucy Wilkins, who received a standing ovation for her bravura violin solo on "Out of the Blue", as well as her work on synthesizers and keyboards, were remarkable.

The set opened with "Re-Make, Re-Model", the first song from RM's first album-a rocking, bizarre ditty, and continued through the band's famous repertoire, which included the abovementioned hits, as well as "Avalon", the haunting "My Only Love", the spaced-out "Ladytron", "A Song for Europe", "Dance Away", and "Both Ends Burning", and finishing with "Do the Strand" and "For Your Pleasure", with each member of the group leaving the stage, until only the whirring sounds of the synthesizer were heard, making for a slighly disturbing finale.

The light show was first-rate, my favorite effect being the rear-view projection of the insides of a lava lamp during "In Every Dream Home a Heartache", that ode to homeowner's woes and love for an inflatable doll. And the dancing girls! Four luscious dancing girls, dressed as "Hullabaloo" dancers for "Both Ends Burning", reappearing as Las Vegas showgirls in flaming red costumes for "Do the Strand", added the classic Roxy Music touch of Hollywood glamor.

In an age where post-pubescent "divas" compete with each other on who can wear the least clothing or emote the loudest, and where foul-mouthed brats can spew sexist, racist, and homophobic lyrics in the name of "freedom of speech", it was a treat to see and hear music that was erudite, fun, and thought-provoking, like having lobster and champagne after a steady diet of Big Macs and fries.

So, Bryan Ferry and company, my top hat's off to you-the magic hasn't faded!

About the Author
Michael Wilk is a 44 year old graphic artist, and is employed by the United State Postal Service in Manhattan, where he has worked for the past 22 years. He lives in Howard Beach, Queens, approximately 5 minutes away from JFK Airport.