THE L.A. EMMY'S, A CELEBRATION OF LOCAL TALENT
BY Joy Short

The evening couldn't have been more perfect. The balmy weather was a fitting backdrop for an event that went off without a hitch at the Leonard H. Goldenson Theatre of the Academy of Television Arts and Sciences. The Academy hosted the big event. While the Academy 's Prime Time show bestows awards on national programs and programmers, the Los Angeles Area Emmy Awards focuses only on the local side of the business. The event honored television media professionals from news to sports.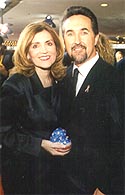 Before the show, I spoke with Bryce Zabel, Chairman and CEO of the Academy. In that capacity, he said that the Academy has become a viable force in the industry. Zabel said, "I do think that what's happened is that the Academy is stepping forward and taking its sort of rightful place in the entertainment community. Because really, who does speak for television if the Academy of Television Arts and Sciences doesn't. A lot of people come at it from different places but the Academy is made up of 12,000 women and men who actually make their livings producing television. One of the highlights of the show was Zabel's presentation of the prestigious Governor's Award to Dr. George Fishbeck.
Hal Eisner was everywhere. Appropriately so, this was Hal Eisner's 7th straight year as Executive Producer of the show. This was his first year partnering with Jeff Androsky and Carol Sherman of Tri-Crown Productions. Together, they pulled off what many at the L.A. Emmy's said was one of the best shows ever.

John O'Hurley (Seinfeld; To Tell The Truth and UPN's The Mullets) hosted the L.A. Emmy's. But before it all started, O'Hurley stopped by to talk with the media covering the event. He confided that a more difficult job than hosting was that of making a 15-second acceptance speech. He said that he didn't know if that could be done. His job, of course, was to keep those speeches short and the program moving along at a lively clip.
A sophisticated set design and graphics added panache to the show. Oldies rock group,
Sha Na Na, got the audience doing the "hand jive" in unison. That was a poignant picture watching so many people share a light moment; the same ones, many of whom spend their days getting the latest details of nasty shootings and car chases down the freeways. During the ceremonies, the bar remained open for guests to step outside the Academy doors to the courtyard. A large monitor showed the on-going program so folks didn't miss a beat. After the awards were all handed out, guests were invited to enjoy the 17-piece swing band, Johnny Vana's Big Band Alumni on the dance floor.
It was a very big night for reporters, anchors, producers, writers and others all of whom make up the Los Angeles T.V. media world. It was also a big night for the celebrity presenters. For some, the job was old hat, but for others this was a first and several told me that those receiving the awards were people they admired.
Sharif Atkins (ER) a first time presenter said he was prepared to do his job. "I have already approved the script and made sure that I don't bobble and bumble over words and names, it should be fun" he said as he stopped by the media line before the show.
Presenting awards had special meaning to some of the celebrities. Actress Linda Gray (Dallas) told me she is a native Californian and as such her presentation of the L.A. Arts Cultural History Award was " kind of a lovely California tribute".
Looking completely together, five year veteran actor George Stultz (7th Heaven) presented The Outstanding Public Affairs Series. In the media line, he said that he was a bit nervous but excited.
Now what's an event of this kind without a fashion statement? One of the wildest looks was made by Debra Wilson (MADtv). Decked out in a wild animal print she said about her outfit, "You know the old saying, when you get married, something old, something new, something borrowed something blue, well, for the Los Angeles Emmy's, I'm wearing something borrowed, something borrowed, something borrowed and something borrowed ". About the Emmy's she said, "I'm just going to sit back and pretend that I'm eating popcorn and watch the fireworks." Wilson presented Best Investigative Reporting to NBC4 (News at 11) Disciplined Doctors and DPSS Fraud; and KVEA Lakes Contamination.
The awardees represented Los Angeles from many angles, giving an over-all true picture of happenings from hard news to sports and beyond. By evening's end, the crowd sparkled with dozens of people sporting golden statues representative of their talents. They had been praised by their peers and had something to take home to prove it.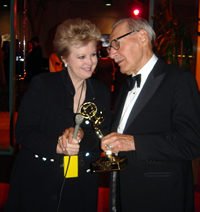 Always a teacher. Says Dr. George Fischbeck to Joy Short ... "Everything that happens to you is an opportunity."
Special honorees of the evening included Chick Hearn, Bob Hope, and Governor's Award Recipient, Dr. George Fishbeck, who is known for his colorful weather reports.
Laker's announcer, Stu Lantz, who last year gave Hearn the Governor's Award, this year paid tribute to his memory. Lantz said "it just doesn't seem like Laker basketball without Chick Hearn". Lantz said he had shoulder surgery last week. Even so he graciously signed a couple of autographs. He said his doctor really didn't want him to attend the awards until he had more time to recover, but Lantz said he had to show up. About the Lakers he said, "We want to go back to where we belong".

Mickey Rooney shared his memories of Bob Hope. The audience watched clips of Hopes movies.
Dr. George Fishbeck, humbly tucked his trophy under his jacket as he made his way through the crowd. I caught up with him after he accepted his award. He said that he has never used notes or a teleprompter in delivering his weather news. He has been a teacher and still is, for that matter. He was very appreciative of the honor.
Others smiled as they accepted their statues. Alan Thicke (Growing Pains) presented the Entertainment Programming award to CBS-2 for their Countdown to the Latin Grammy Awards.
News Writers, Diego Carro of KVEA/KWHY and Tim Langford of Fox 11, surely must have felt touched by an angel after Della Reese handed out their awards in a tie. While her show, Touched By An Angel, is over, Della Reese said that she is doing charity work to try to help people that need it.
Carlos Bernard (24) gave KVEA the Emmy for best Serious News Story Single Report for "The Forgotten". Bernard told me he appreciated the work of the newscasters saying, "for us and our kids I think it's important to present the world not just the entertainment world. "
Always funny, Teri Garr (Friends), handed out the sports awards, quipping that she actually knew little about sports. Garr said, "For me watching a football game, it's like a monkey looking at the back of a watch. I like to look at the guys in their uniforms". She presented several Emmy's, two of which included Sports Feature, Walter Bratton (Southern California Sports Report) FSN and for Sports Series Programming, So Cal Prep Spotlight FSN.

Paul McCrane (ER) presented The NBC4 News Team took Live Coverage of an Unscheduled News Event. It was his first time presenting at the L.A. Emmy's and he thought that it was time that local folks got some recognition.
Sports reporter, Fred Roggin took two awards. Fred Roggin's Road to Salt Lake City NBC4 and Sports Reporting. There were a number of juried awards that showcased individual and station work. There were also many other awards, too many to mention here. One thing rang through of this evening, it was a time that local Los Angeles television professionals honored each other and showed appreciation for each other's work. It is a small community, after all.