Renewal

Buildings are vessels. They not only hold people and their stuff; they also hold ideas. They are the reaction of architects, artisans, and their patrons to the times in which they've lived. Three of New York's signature public places are snapshots right now of their own time as well as this uniquely strange moment we're in now.
Downtown, The Wintergarden recently reopened, after sustaining major damage when the North Tower collapsed. It's filled with the rich materials and textures that had come into vogue in the 1980's, and is the unlikely home to 16 fully-grown palm trees. Performance space, promenade and anchor to a group of shops, restaurants and services, the Wintergarden had become a destination for tourists and a welcoming and stimulating space for local workers and residents.
Reopened this past September, it is a fulcrum for the strange yin and yang of the aftermath of September 11th. The atrium's east face, originally a facade of polished red granite, has been replaced with a curtain wall of glass that gives an uninterrupted view of the entire Trade Center site. The vast emptiness is deeply sobering, and yet...turn around and you are greeted by the first building to be completely restored and reopened after the attacks. The palms are cheerily robust; the murmur of conversation and motion reminds us that daily life resolutely continues. Courage and resolve have made it possible for us to return to this place.
In Midtown, the venerable Grand Central Terminal makes her own time warp. Sensitive but practical restoration of Grand Central, completed several years ago, make this building a dialogue between centuries- the grand planners of the 19th Century, the industrial tycoons of the early 20th, and now the forward-reaching techies of the 21st.
Go up to the balcony level, then, and lose some of the details of the people strolling or rushing across the floor of the main room. It could be 1944; a huge American flag hangs from the vaulted ceiling, just as it did during World War II, when veterans took the trains home to all parts north, south, east and west.
A few blocks away, Rockefeller Center, Art Deco gem of the Great Depression, envelops visitors with the American flag. Two rows of them almost completely encircle the skating rink; they replac =ed the customary international banners right after September 11th. The numbers of them and their varying symmetry show the evocative strength of the flag in a way that's different from Grand Central's huge, still flag. When breezes stir them, the white and red bars seem to be reaching out to the people below- to evoke a calm centering, perhaps action- and certainly, underneath it all, remembrance.


This 'panorama', two shots with a 28mm lens, is the view of the Trade Center from the new West Street facade of the Wintergarden.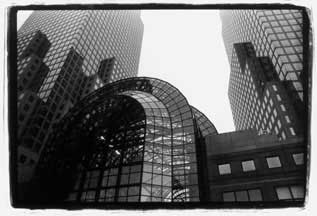 The Wintergarden's glass barrel vault. The structure sustained 50 million dollars' damage on September 11th. The Hudson River is behind us; the North Tower filled the space you see behind the Wintergarden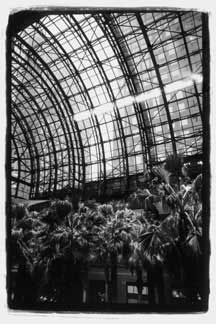 Some of the 16 new palm trees that call the Wintergarden 'home'
Stars and Bars at 30 Rock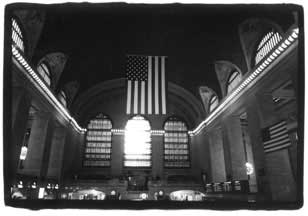 Grand Central Terminal's Main Concourse, October 2002
All photos copyright Nancy LeMay, 2002