NAB/RTNDA
Through The Eyes Of A Pro

The Empire State Building is silhouetted against pink mountains ... signaling arrival in the town only Americans could build, Vegas.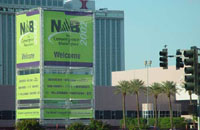 I had no idea what an impossible challenge I'd set myself when I decided to take only one day at the NAB. You cannot nibble this NAB. Having been combined with 2001's canceled RTNDA Convention, the exhibits alone spread over 850,000 square feet of floor space. The mammoth Las Vegas Convention Center doesn't even hold it all-shuttle buses take attendees over to the Sand's Convention and Expo Center-which isn't small, either-and to the conference rooms in the Hilton as well.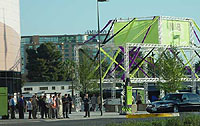 Waiting in line and walking are the two big activities at NAB-the queue at McCarran for taxies into town was a block long with four switchbacks; several people mentioned "Space Mountain" or made other thinly veiled references to Disneyland. The lines in Starbucks-conventioneers run on coffee and sugar-were also daunting. But walking-and walking-first to get through security (bags and luggage are searched), find a locker for your stuff, find and secure your credentials, and figure out where things are...By the time I'd done this I'd walked nearly the length of the Convention Center, and burned the better part of an hour.
But I'm not complaining. There is no better way to get a feel for the forces
swirling through the day-to-day workings of this industry. For me the big
news is the interest in Apple Computers. Apple's enormous booth anchored one
corner of the Central Hall. An amphitheater, whose screen outsizes many found
in the multiplex, featured demos of the latest Apple software and their new
OSX operating system. Rows of flat-screen equipped G3's and iMacs were set up
to demo each one of the major packages used in editing, graphics, compositing
and animation. A constant stream of people (many of them very young) around
the booth suggests the impact that Apple is having in this area.
I saw their demo for Final Cut Pro 3, a compositing and editing package meant
to compete with Avid (whose booth is next to Apple's) and to replace the
combined features of Premiere and After Effects. Every seat was taken, there
were dozens of standees and more dozens, like myself, who pulled up a bit of
carpet and sat down. Two hundred people, easily, paid careful attention to
the demo, which showed how the trailer for "The Scorpion King" could be cut
on a Mac. "The $50,000 editing system. Now 90% off," their ads state, and
clearly it is.
The desktop revolution is not, in itself, big news-it's been one of the major
trends in the industry in the last decade or so. Smaller/cheaper/better has
become familiar territory. No, the big news is that I can run Final Cut Pro 3
on a laptop, burn a broadcast-quality DVD of my work and be a TV content
supplier out of my second bedroom. The trick for any individual, of course,
remains the same-finding accounts. But many people will use these tools to be
independent, building small businesses with low overhead. They will be
competing with animation and post-houses whose smallest investment was the
$50,000 editing system they no longer need but are still paying for. Some of
these individuals will win, and this is good.
But the desktop revolution has a darker side, and that is it's threat to
union members. The networks have been working for years to take away jobs
that were, in the past, only jurisdictional. The complexity and specialized
design of many of the broadcaster's tools, like the Paintbox or the CMX
suite, have assured the need for highly trained-specialists, who become union
members. Now, as the tools are migrating away from proprietary software and
are running on PC platforms, the skills become available to more people and
the specialization that union members represent becomes less relevant.
This erosion has already begun-in one network O&O in New York City, Avid
editors, who cut the station's news promos, are nonunion because the Avid is
considered a 'computer' and not a compositing device. Look to see more of
this: the newest generation of gear from Quantel is running on the NT platfo
rm.
What does it mean for the individual? In a way it's nothing new-constant
challenge is the daily reality in the TV business. But it's easy to come away
from the NAB with the sensation that we will need to run, and not walk, just
to keep up...

About the Author

Nancy LeMay is a five-time Emmy winning broadcast designer who has worked both in New York and LA, in network and local. She is a teacher and a painter as well. You can reach her through her website, www.Nancylemay.com and by email at NancyLeMayCo@aol.com