Rudy Giuliani's New York

Rudolph Giuliani, when he first began to turn up our New York TV screens in the 1970s, came off as an odd sort; the pale, owlish, soft face and thin-rimmed glasses made him look bookish, studious. His slight lisp was a bit reminiscent of Bogart. Since we knew him as a tough US Attorney, we imagined that maybe Rudy's lip had been opened with a roundhouse sock to the mouth as he brought some Mafia operative to justice. When voters gave Giuliani the keys to Gracie Mansion in 1993, nearly 20 years after the "Ford to City: Drop Dead!" era, it was because we had concluded that only the toughest guy on the block could bring the epic mess, the anarchy, under control. We had handed him a big, big job.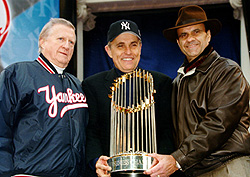 George Steinbrenner, Rudy Giuliani and Peter Torre after last years' World Series.
Photo courtesy NYC Office of the Mayor
Sitting here today and glancing backward through the looking glass of time we see something that does resemble "The New York Miracle" that the city's Convention and Visitor's Bureau is now promoting. Extract the scandals, police shootings, racial tensions and other problems of his eight-year term-all normal American political stuff-and look at what the City is now; you will see what Giuliani and his team have accomplished. The results are astounding. Neighborhoods like Chelsea which were deserted on weekends and at
night are now teeming with residents and shoppers; crime is way down and the presence of big retailers is way up. There are budget surpluses. The city is quieter-the incessant honking of horns has been reduced. The subways, which finally received millions and millions in capital improvements, run on-time and are free of the wall-to-wall spray of graffiti that, in the 70's and 80's, had made a subway ride a descent into an inner ring of hell. Tourists now wander with their kids from Rockefeller Center down to Times Square, a place where, pre-Rudy, drug-dealing and the porn trade ruled. Now "The Lion King" rules.
If I were a political analyst I'd go on about the reforms of the City's child welfare system, the Mafia crackdown, the application of vagrancy and
loitering laws-all the concrete things that add up to the politics of reform.
But there's something else here that Giuliani worked on, starting almost from his first day in office: he called it "Quality of Life," and this is really
fascinating stuff.
For Giuliani, and City Hall as it worked through him, quality of life issues
were the basic keys of civilized interaction. Local pundits criticized and
made fun of him when this movement began-there was something Pollyanna, it
seemed, in suggesting to New Yorkers that they should be considerate of one
another. But the funny thing was-it worked. I remember going into the subway,
probably around 1995, and seeing a sign from the MTA, "Rules of Conduct,"
prominently displayed on the token booth. It was an echo of the same signs,
dating from the 1950s, that had vanished from the subway in the 1960s. The
rules were common sense and basic: "No Spitting", "No Loud Music", that sort
of thing. But with these rules declared to all, and enforced by the Transit
Police, lo and behold-before long we felt safer on the subway. Giuliani
stated, in effect, 'the City belongs to us all, and is the collective
expression of how we are in it. Now let's make ourselves-and me-proud.' And
so, bit by bit and year by year, through this period New Yorkers were shown
that greatness, borne by each of us, was still there, waiting only to be
unveiled by the political will and spirit to do so.
Now, to be fair, Giuliani was also lucky; his efforts coincided with the
longest bull-market in history. New York, as the world's financial center,
was awash in the tsunami of money sloshing through society in the 1990s.
Prosperity, after all, makes believers out of all who participate. Let's
remember, too, that among the more pointed criticisms of the Mayor was the
belief that he was insensitive to the needs of people of color, and that City
Hall turned a blind eye when police were overzealous in their work. No human
progress is simple and one-dimensional, so we know there are New Yorkers who
did not fair as well during these years of reform. But what's important to
observe right now is this: politics found a way to express the spirit, the
greatness of a city and turn it into a reality of day-to-day life. The world
has watched Giuliani in action, leading New York for eight years, but it is
during the last eight weeks that the spirit of this leadership becomes clear.
Strong, defiant, increasingly compassionate, focused and seemingly tireless,
embodying the 'down-but-not-out' attitude of a city that's seen it all,
Giuliani has carried the expression of this spirit with him. New Yorkers, who
were thrust into their blackest day on September 11, have looked to his
courage and been inspired. We will name buildings after him, smile a slightly
astonished smile when we think of him, and for years to come we will thank
goodness he found a way to help us restore our strength, and find an
ineffable spirit, just when we would need it most.

About the Author

Nancy LeMay is a five-time Emmy winning broadcast designer who has worked both in New York and LA, in network and local. She is a teacher and a painter as well. You can reach her through her website, www.Nancylemay.com and by email at NancyLeMayCo@aol.com