Mark Bennett's Sitcom Art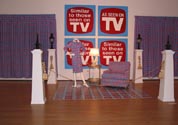 The exhibition "From Leave it to Beaver to Frazier: the Art of Mark Bennett" is in its' last few days at the University Art Museum in Santa Barbara. It offers up some entertaining details about the world of sitcom characters as well as an opportunity to contemplate this weird thing we call 'TV'.
Bennett has created a suite of blueprints depicting the homes, apartments- or other dwelling spaces- seen in our most popular situation comedies. They are full size, and replete with details that you'd find on blueprints in "the real world", including, for instance, addresses: Lucy and Ricky Ricardo lived in Manhattan at 623 East 68th Street in Apartment 4A (zip code 10021). Bennett notes dutifully how you'd get to the Mertz's apartment, including a directional arrow down the hallway. His and hers closets as well as his and hers beds are in the single bedroom, along with the crib.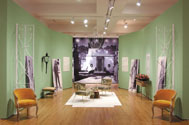 The complete "Gilligan's Island" is here- I never realized they had built a stage, but Mark Bennett did- and so you wonder once again at how incredibly resourceful these folks really were. You'll find the chair that Dick Van Dyke trips over in the open of his show's first season. And this is one of the things that's fascinating about this exhibit; it doesn't take long to buy into the reality that he's created. Once the viewer notices the obsessive, but amusing, accuracy of these drawings the exhibition becomes a sort of Easter egg hunt for the salient detail and the in-joke. The Brady Bunch's garage, Bennett notes, has space for two fine AMERICAN cars.
Mark Bennett reminds us of many things we already knew about the power of TV, but he does it in a unique and light-hearted way. He lets us wonder happily at our affection for the Petries and the Mertzs and the Cranes without wagging an admonishing finger at us. These TV worlds are crafted for our enjoyment, and we enjoy them; well-appointed alternate universes for our imaginations to travel to.

IMAGES COURTESY THE UNIVERSITY OF ART MUSEUM WEB SITE, UCSB