Archived Weekly Features
This View by Nancy LeMay
Nancy LeMay is a five-time Emmy winning broadcast designer who has worked both in New York and LA, in network and local. She is a teacher and a painter as well. You can reach her through her website, www.Nancylemay.com and by email at NancyLeMayCo@aol.com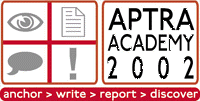 APTRA Academy Logo:
The New Look

We live in a sea of logos - some poor ones and an amazingly large number of good ones. Most people know what a logo is, and it's one of the few areas of graphic design that non-designers have opinions about.

This is one of the reasons why designing them is challenging and fun; it's an esoteric exercise, full of subtleties, but people respond to logos. So the third opportunity to design the logo for the APTRA Academy (Hal has details about this great program elsewhere on the site) was a welcome assignment.

The Academy focuses, in a two-day intensive 'boot camp,' on anchoring, writing and reporting the news on TV. How to symbolize these professions? Anchoring came first...how to show this? Well, I reasoned, the anchor sees and is seen; an icon of the human eye works here. Writing: easy. A page with the written word on it. Reporting...a bit tougher. Reporting is about speaking and being spoken to; so I found a classic 'dialogue balloon' to symbolize the exchange of words.

But now I had four spaces and just three symbols: having decided to take a flat, symmetrical approach to the design, there was no going back from the need for four graphic elements. This solved itself, because the one  experience everyone has at the Academy, no matter what they focus their study on, is discovery. Students learn the rigors of working under deadline, the rush of standing in front of a mic and 'going live.' They discover a voice they didn't know they had, or an obstacle to their development they need to address. Everyone comes away from the weekend having had the chance to learn real-world and real-time skills from working pros in TV news.

And so I filled in the empty space with the great symbol of surprise and discovery: the exclamation point tells the rest of the story of APTRA Academy.