I am addicted to TV news! I have always wanted to be in this business since I was little as I would watch my two uncles work through the ranks. I guess you can say it's really in my blood! I always knew it was competitive to get into news.. but my uncle Tony let me in on a secret.. NETWORKING! Let me tell you it one of the best tools you should use.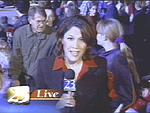 In college I started getting involved in organizations like APTRA, NAHJ, and CCNMA. From there I applied to various scholarships, went to job fairs, and met journailsts. I interned at KABC-TV for 2 years and learned how a big market newsroom worked. I met very talented people and was like a "sponge".. soaking up as much information.. tips and tricks of the trade.

At the NAHJ convention in Phoenix, I met the news director at KERO-TV in Bakersfield and that's when I got the job as a Producer. I couldn't believe it.. Iwould actually have to move.. leave my life in LA and move to the Bakersfield?! After the 100 degree heat, wierd stenches of, sounds of drilling.. I started to look past that and began to enjoy living in Bakersfield.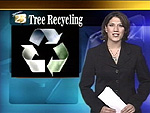 I produce the 5PM newscast, run the assignment desk, report a few times a week and fill in anchor in the mornings.

Life in a small market isn't easy.. but it is very rewarding.I have learned to do almost everything in the newsroom.. and if I didn't know how to do it.. I learned on the spot. The majority of our reporters have a photographer... but one man bands are becoming the new wave of journalism (I'll explain in a another article:). The reporters edit their own stuff,producers write the entire newscast, weekend anchor produces their own show and we do it all WITHOUT an assignment editor. Let me tell you multi-tasking is important.

Because I will be writing my show, answering the phone and listening to the
scanner all at the same time. And believe it or not we get a show on the air with about 8 people total.. on a good day. Just remember every newsroom has their own flaws and the grass isn't always greener on the other side. But if you love what you do.. and are determined to learn and aren't afraid to make a mistake and admit it... you'll go far in this business.