Making The First Move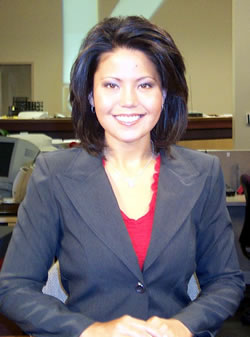 "Report on anything and everything you can get your hands on. Specialize later."
That was the advice I got from a successful on-air personality when I finished college and was trying to break into the biz. And I did it. By the time I applied for my first small market job I had sports, I had entertainment, I had news, I had politics all on tape. I never turned down one assignment.
After I graduated from college in Northern Virginia, my former boss Entertainment Tonight's Mark Steines offered me a job as his assistant. A farm boy from the midwest that has worked his way up from small markets...he served as a mentor..preparing me for my next job. I worked at ET and as a reporter for CitiCable 3 in Torrance. In February I got an offer to join CBS affiliate KMEG-TV in Sioux City, IA as a reporter/relief-anchor. Within a week I called to reserve a Ryder truck and alerted my landlord that I wouldn't be paying the rent next month. I packed-up my life on the beach...unpacked my winter boots and was soon whistlin' Good-bye Hollywood...here I come Heartland!
Financially, I look back and don't know how I was able to do it. I couldn't afford a hotel...so I slept in the Ryder truck both nights on the road- and Utah was COLD! I didn't even have a place to live. It would be my first time in the midwest but I was ready to grab it by its antlers.
At KMEG I produce, shoot, write and edit my stories on strict time constraints everyday.KMEG's news coverage spans the tri-state area of IA, NE and SD. Everyday I attempt to tailor my story to the interests of three states. Here, It's meat-packing country and the corn fields run to the ends of the Earth. Finding ways to make my story interesting...is a challenge daily.
The first day of war with Iraq happened during my starting week. That day I was given the lead story...and finished editing at 6:01 pm. One minute after the launch of our live newscast. I missed my slot and shuffled the whole show's rundown out of order. Needless to say that earned me an immediate appointment in the chair across from my news director's- and I have NEVER missed a slot since.Here you don't live and learn. You just learn and learn.
I often produce and anchor the morning cut-ins and they weren't joking when they say in a small market you do it all. From 5 am to 9 am it's me and the master control guy and he doesn't count...he's usually half asleep with left-over doughnut in his 'stache. I produce, write and deliver updates every half hour. I even run my own teleprompter. You should have seen my first shot at it- as my news director puts it, he should've asked if I could walk and chew gum at the same time when he hired me.
Sure I miss the beaches, the gala events....my hometown on the outskirts of the nation's capitol...but I like small town living. Here I am gaining confidance and can make very forgiving mistakes. I've gone blank on my live shots... forgot to ask the BIG question...and have even totally missed the boat on stories. But all the practice is making me better.
Under the tutelage of veteran journalists I am asked to raise my game everyday and I take them up on the challenge. Because my fingerprints are all over the stories I turn, I strive to deliver the best news product possible. My move to Iowa has been a complete professional and cultural education. Twelve hour days never felt so good. How many people can honestly say they enjoy coming into work on their day off. I'm building skill and taking advantage of a place I that only the career of journalism could take me. Taking that road has made me realize that it doesn't matter where I am if I am doing what I love- and really when it comes down to it the buffalo are great and the tractor square-dancin's a hoot!