TV news is a tough business. Don't be discouraged by that statement, just take it to heart. You'll be asked to move far away from friends, family and loved ones. You'll work nights, overnights and weekends. Your schedule, next job and passion for what you do, can often wreak havoc on your relationships.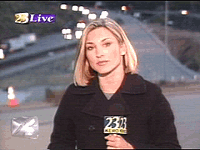 That aside, I wouldn't work in any other business. In what other job are you able to have up-to-the-minute information in your hands, before anyone else? In what other job do people depend on you to deliver that information to them in the best and quickest way possible? In what other job can you watch news happen and deliver it live as it is happening? Not too many.
I think my only real advice, is you must have passion. If you're not passionate about this business, there's no point in stepping foot in a newsroom. I did the math the other day. I added up the number of hours I worked in my first true on-air job and divided it by my salary. I made about as much as the kids working at the drive-thru at McDonald's, but I love what I do and I wouldn't be good at flipping burgers.
You must be ready to work. I've been working as a reporter/anchor at KERO-TV in Bakersfield. We have three newscasts during the week and two on the weekends. We have a staff of about 9 people to come up with story ideas, decide what to cover, shoot, write, edit and deliver the news. That's on a good day.
In the 2 1/2 years I've been at KERO, I've learned how to do nearly everything in a newsroom. Don't be discouraged if the first television job you're offered is editing tape or associate producing. Those jobs will prove to be valuable to your career. The more news directors I talk to, the more I realize that most of them want you to be able to do more than one job. Plus, I think the best way to become a good reporter, is to first become a good writer. Many will disagree with me, but I think people who spend a year or two as a producer, often turn out to be the best reporters.
If you want to break into this business, talk to the people who do it every day. Read every newspaper you can get your hands on, watch TV news like it's your favorite movie and learn to take criticism. You'll get a lot of criticism. The trick is to absorb it all and separate the bad from the good.