About: Kitty Alva
Kitty Alva is a freelance broadcast journalist in Southern California's Inland Empire of San Bernardino and Riverside Counties. You can follow her on Twitter @HeyKitty.
Recent Posts by Kitty Alva
Surviving in the news business takes passion plus a true love of people and service. The Newslife from Arkansas to Aruba is news giant Stephen Cohen's first-hand account of what the news biz was, is and how it evolved. The book paints a real picture of what it was like in the days when local news was king, while paying tribute to people in the news biz, some greats in their own right and some who many of us wish we could have met and worked with back in those legendary days.
Through the many trials of his life, Cohen has shown resilience, courage and most admirably of all, has remained kind and humble in a business that can chew people up and throw them out with yesterday's copy.
While his career has at times not taken the traditional route, like when he was hired as a media consultant during the disappearance of Natalie Holloway in Aruba and tapped to launch Court TV, his news values have remained old school and honorable. Cohen, now news director at KUSI in San Diego, knows his job, understands what works in news but has tried what hasn't worked and is never afraid to do the right thing without regard to ratings. He says that while the formats and tools have evolved the core of delivering news remains the same.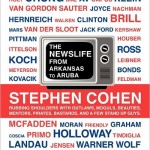 I was fortunate to visit with Cohen and get a little more insight on the life-changing moments of his career. I couldn't help but ponder my own news life and wonder how the jobs he almost had or lost affected him and how his life may have been different had he never failed or gotten everything he hoped for at the time.
It took him a few seconds to reflect but said with certainty through honest blue eyes, "I would be the same person, but I now see the reasons I wouldn't have been prepared to handle that job," adding that insight comes with time.
Cohen always carries a deep sense of who he is, even during the years most of us have doubts. He credits his old soul to the years he spent with his grandfather, survival skills to his Jewish roots and street smarts to growing up in the streets of Philadelphia. In his office, to his right, hangs a poster of Pope John Paul II that he says it reminds him of the values that really matter in life, when the news day gets stressful or begins to fly off course or message. Some might find it ironic. I found it fitting, since Pope John Paul II was a master communicator who respected the craft of journalism and warned that it be used for good.
Newsies elbow deep, newsies in training and news junkies will find this book, as I did, essential reading. And everyone who reads it will take away lessons of a well-lived life,  that happens to be in news.